Apple CEO Tim Cook Named to TIME's Annual List of 100 Most Influential People
Apple CEO Tim Cook was once again named one of "the 100 most influential people" by TIME magazine in its annual list recognizing individuals who have made a major impact on the world. Tim Cook is recognized as a "Titan" alongside people like Yuri Milner, Binny and Sachin Bansal, Dwayne "The Rock" Johnson, Wang Jianlin, and Pope Francis.
Each person included on TIME's list is featured alongside an essay written by an associate, with Cook's 2016 note penned by Disney CEO Bob Iger.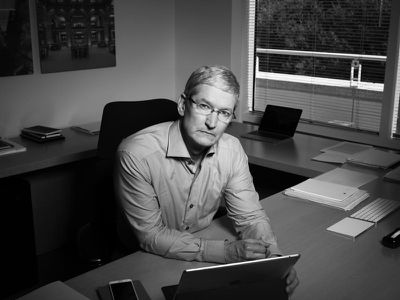 Apple is known for elegant, innovative products that change the world by transforming how we connect, create and communicate, as well as how we work, think and act. Its continued success requires a leader of great courage and character who demands excellence, upholds the highest ethical standards and routinely challenges the status quo, including encouraging vital conversations about who we are as a culture and a community.

Tim Cook is that kind of leader.

Behind his soft-spoken demeanor and Southern manners is a focused fearlessness that comes from deep personal conviction. Tim is committed to doing the right thing, in the right way, at the right time and for the right reasons. As CEO, he's led Apple to new heights, and he continues to build a global brand that is universally recognized as an industry leader and widely respected for its values.
Tim Cook has been included on the list of most influential people several times, and in 2014, Cook was nominated for the TIME person of the year after making the bold move of publicly announcing his sexual orientation despite being a notoriously private person.
Other notable people included on TIME's 2016 list include actors, world leaders, scientists, and notable people from the tech world. Priscilla and Mark Zuckerberg, YouTuber Pewdiepie, Aziz Ansari, Sundar Pichai, Stephen Curry, Adele, Leonardo DiCaprio, and Barack Obama were some of this year's most influential people.