iPhone SE Remains in Tight Supply at Apple Stores and Online
Nearly three weeks after the launch of the iPhone SE in the U.S. and eleven other regions, availability of the new 4-inch smartphone remains limited.
iPhone SE continues to be out of stock at Apple Stores in a number of major U.S. cities, including most or all locations in New York City, Los Angeles, San Antonio, San Diego, San Francisco, Houston, Phoenix, Chicago, Philadelphia, Miami, Atlanta, Denver, Portland, Raleigh, Seattle, and Washington D.C.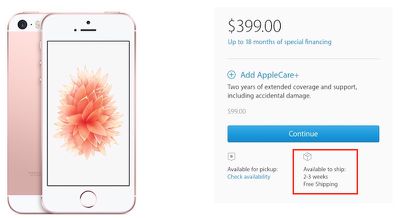 Apple's web-based Personal Pickup tool shows that the smartphone remains in tight supply in many other international cities, including Amsterdam, Berlin, Hong Kong, London, Madrid, Melbourne, Milan, Montréal, Paris, Rome, Sydney, and Toronto. Most models are currently available on a ship-to-store basis only.
MacRumors forum member Channan writes in "How do I get an iPhone SE?":
All the Apple stores within 300 miles of my location are also all sold out of the model I want. I check every 64GB silver model except Sprint, since the rest are all the same.

I have to buy from an Apple Store because I want to trade my 5s in and get the SE on a payment plan. Some carriers had them in store but that just isn't an option for me.

Meanwhile, online availability of the iPhone SE remains backlogged into May, with new orders estimated to ship in 2-3 weeks in the U.S., Australia, Belgium, Canada, France, Germany, Hong Kong, Italy, Japan, The Netherlands, New Zealand, Singapore, Spain, United Kingdom, and many other countries.
iPhone SE shipping estimates slipped to late April soon after the smartphone launched on March 31. Nevertheless, while extended delivery estimates are anecdotal evidence that iPhone SE sales may be promising, they are not a measurable indicator of exact supply and demand.
Apple has not disclosed official iPhone SE sales figures, and early speculation is mixed. A recent CNBC report claimed that Apple received an initial 3.4 million iPhone SE pre-orders in China, while KGI Securities analyst Ming-Chi Kuo and analytics firm Localytics described first weekend sales as "lackluster."
Prospective iPhone SE buyers should also visit local Apple Authorized Resellers, which in the U.S. includes AT&T, Verizon, Sprint, T-Mobile, Costco, Sam's Club, Target, Walmart, and many other carriers and retailers. Apple Stores may also replenish limited in-store iPhone SE stock each day, so call ahead.