Jony Ive Designed a One-of-a-Kind Yellow iPad Pro for Charity
Jony Ive's design team has created a one-of-a-kind 12.9-inch iPad Pro, iPad Pro Smart Cover, and Apple Pencil holder that will be auctioned off as part of a fundraiser for the London Design Museum, reports Wallpaper.
The iPad Pro has been anodized with a bright yellow dye, making it unique among Apple's standard color lineup of Space Gray, Silver, Gold, and Rose Gold. Compared to the Gold iPad Pro, it's a much brighter, more vibrant shade of yellow.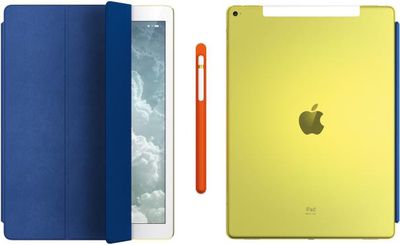 Unique and exclusive customised design by the Apple Design Team for Time for Design.

Jony Ive showed a prototype mobile phone at the Design Museum in 1990, long before he started working for Apple. He was winner of the museum's first 'Designer of the Year' award in 2003 for the iMac. To support the museum, he and his team in Cupertino have designed this special iPad Pro in a unique colour numbered Edition 1 of 1.
Accompanying the yellow iPad Pro is Smart Cover made from a blue French leather and an Apple Pencil ensconced in an orange Italian calf leather case. According to the auction listing, the iPad Pro's back and the Smart Cover are etched with the words "Edition 1 of 1."
The iPad Pro has an estimated value of GBP10,000 - 15,000, the amount it is expected to fetch at auction. It will be available to bid on starting on April 28.
Apple has donated specially designed items for charity auctions several times in the past, with Jony Ive creating a red Mac Pro and solid gold EarPods, among other items.