Audio device manufacturer JBL recently announced the Reflect Aware C headphones, which will give users noise-canceling abilities without the need of a separate battery pack, thanks to its USB-C connector (via The Verge). Using the new input, the headphones draw both power and audio from a USB-C port, like the one on Apple's 12-inch MacBook or the just-announced HTC 10 smartphone.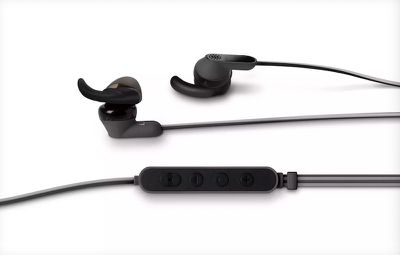 The Reflect Aware C headphones were built for activity-focused users, coming with sweatproof and ergonomic in-ear tips to keep them from falling out while running or working out. The selling feature of the device -- the ability to mute extraneous sound -- can be scrubbed through various noise-canceling levels to hear less or more outside sound. The toggle switch that controls this setting also houses a microphone for phone calls and music playback/volume control.
Although USB-C has yet to take off, even within the stable of Apple products, JBL's product is a telling step forward for companies looking to move past the standard 3.5mm headphone jack, which has been a steady topic of conversation since last year. On the smartphone side of things, the Reflect Aware C will be able to be used with devices like the new HTC 10 smartphone, which launches in May and houses a USB-C port as its main charging solution.


JBL is staying tight-lipped about availability and pricing on the new noise-canceling headphones, but some information can be gleaned from another product in its lineup. The similarly-titled Reflect Aware headphones, announced at CES, will pack all of the USB-C version of the product's features, but trade-off that output for an Apple ecosystem-friendly Lightning connector.

Get the most out of your exercises by filtering what gets in. The new JBL Reflect Aware™ sport earphones delivers both best in class noise cancelation and the ability to mix in sound from your environment for greater awareness of your surroundings when you want it, making it the most versatile sport headphone on the market.

Designed for sport with a unique reflective design, the JBL Reflect Aware™ earphones, feature legendary JBL sound and an ergonomic fit design that keeps the earpieces in place regardless of the intensity of your workout routine. Sweatproof and available in blue, black, red, teal, the JBL Reflect Aware™ earphones require no battery because they draw power and digital audio directly from the lightning connector on Apple devices.
The move could perhaps fill in a gap of noise-canceling headphones for this year's main-line iPhone release, as recent rumors predict that first-party, Lightning-connected and dynamic noise-canceling headphones will launch with the 2017 "iPhone 7s." This year's iPhone 7 would simply adopt Lightning-connected earpods without the inclusion of noise-canceling technology.
The Reflect Aware in-ear headphones will cost $159.95 and the first round of orders begin shipping on June 19 in Blue, Black, Teal, and Red. Although unconfirmed by JBL, the Reflect Aware C will most likely be priced at a similar point -- thanks to a laundry list of mirroring features -- but the release date could be shifted.