iPhone SE Component Costs Estimated to Start at $160
Component costs for the new 16GB iPhone SE are estimated to be at about $160, according to a preliminary teardown report from IHS iSuppli. When a new iPhone is released, IHS often takes it apart to estimate the cost of each component to ultimately predict how much Apple spends on hardware.
IHS estimates that the materials for the device cost $156.20, rounded up to $160 with the addition of manufacturing costs. Apple is believed to have kept the base cost of the iPhone SE relatively low by using a number of parts designed for the iPhone 5s, 6, and 6s, allowing the device to be sold to consumers at a $399 starting price due to price drops on the original components.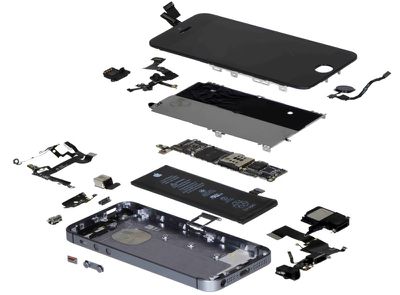 For example, the Gorilla Glass display in the iPhone SE is estimated to be one of the most expensive components, coming in at a price of $20. When that display was originally used in the iPhone 5s, it was more than twice as expensive. When the iPhone 5s was released in 2013, in fact, its costs were estimated to be at $199 and with Apple's most recent flagship iPhone 6s Plus, component costs were estimated to start at $236.
When it comes to the 64GB iPhone SE, IHS estimates that Apple is making an additional $89 per device over the 16GB iPhone SE, due to the relatively low cost of memory upgrades.
"Apple is willing to drop its gross margin on the low end to induce sales -- though it is likely counting on many consumers upgrading to the more profitable 64 gigabyte SE model," said Wayne Lam, principal analyst, mobile devices and networks, IHS Technology. "When the profit machine that is Apple capitulates to the market forces of a maturing industry, it shows its tacit acknowledgement that even it is not immune to the dynamics of the global smartphone slowdown."
IHS' component cost estimates look at the potential price related to each individual component in a device without taking into account other expenses related to product creation like research and development, advertising, software, and distribution, so while interesting, the estimates are not a useful tool for determining Apple's actual profit margin. An earlier report from CNN suggested the iPhone SE components have a total cost of $220, but IHS has a longer history and more experience with component pricing estimates.
In the past, Apple CEO Tim Cook said that component cost breakdowns on Apple products are inaccurate. "There are cost breakdowns around our products that are much different than the reality," he said. "I've never seen one that is anywhere close to being accurate."