iPhone 5s Component Costs Estimated to Begin at $199
IHS Suppli has released its estimate of the component costs involved in building the iPhone 5s, performing a virtual teardown based on information revealed by Apple and industry knowledge. The estimate, which does not include numerous other costs involved in product development, manufacturing, and sales, such as research and development, software, patent licenses, marketing, and distribution expenditures, pegs the component cost of the 16 GB iPhone 5s at $199.
The full report has not yet been released but AllThingsD received early access.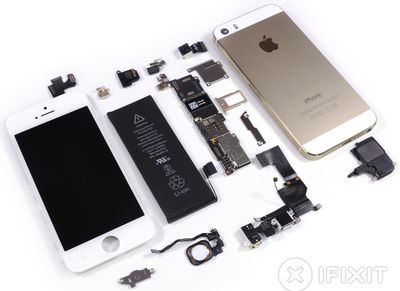 Apple spends at least $191 on components to build a 16 gigabyte iPhone 5s. The cost rises to $210 for a 64GB unit. The cost of assembly adds another $8 per unit, bringing the range to between $199 and $218.

That cost estimate is pretty close to that of the original iPhone 5, which IHS pegged at about $205 last year. Without a contract, the iPhone sells at prices ranging from $649 to $849, depending on storage capacity.
The bill of materials includes $41 for the iPhone 5s display, $32 for the RF chips, $7 for the fingerprint sensor, and $19 for the A7 chip manufactured by Samsung. The report says the cheaper iPhone 5c costs between $173 and $183, with the A6 processor costing $13.
However, from a material perspective, the iPhone 5c and 5s are very similar. With the exception of the fingerprint sensor, A7 processor and "some newer memory chips that consume less power", IHS analyst Andrew Rassweiler says they are "basically the same".
However, Apple appears to have spent "a lot of time and money combining [radio frequency] chips", says Rassweiler. "Apple seems to be pushing its RF suppliers to do things they don't do for anyone else."
Those vendors, according to IHS's analysis, are Qualcomm, Skyworks, Avago, RF Micro Devices and TriQuint Semiconductor, all of which make chips that handle different aspects of the iPhone's connections to various wireless networks. These efforts toward getting the radio frequency chips to work together have the effect, Rassweiler said, of allowing the phones to support more frequency bands in a single phone than before. "The iPhone 5 supported no more than five LTE bands. The 5s and 5c can support as many as 13, and that's unique," he said. "Unlike other phone designers, Apple has spent a lot of time collaborating with the RF chip companies to find novel solutions that its competitors don't have."
Some older generations of iPhones required a number of different models to cover all the different cellular frequencies, but Rassweiler says the progress Apple has made on RF chips suggests the company may soon be able to produce a single iPhone model that works on all cellular frequencies, increasing economies of scale significantly.
The full IHS Suppli report should be released tomorrow.