iPhone 6s Plus Component Costs Estimated to Begin at $236, $16 More Than iPhone 6 Plus
IHS iSuppli has once again taken apart the newest set of iPhones in an attempt to come as close as possible to estimating the actual component cost of the new devices. According to IHS iSuppli's teardown of the iPhone 6s Plus, the bill of materials for a 16 GB version comes to $231.50, with manufacturing costs and other minor items raising the overall price slightly to $236.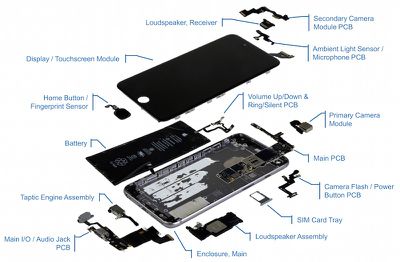 One of the biggest areas of increased cost is related to 3D Touch, which adds about $10 to the overall component cost of the iPhone 6s Plus when combined with Apple's Taptic Engine used to fuel the new feature. It's these improvements that have boosted the new iPhone 6s Plus to cost around $16 more to manufacture than last year's iPhone 6 Plus, according to IHS Technology senior director of cost benchmarking services, Andrew Rassweiler.
"3D Touch and Apple's Taptic engine are among the more notable feature upgrades found in this latest round of iPhones," said Rassweiler. "With each generation the company makes measured, incremental technology improvements to its iPhone line, and this time around those changes are increasing Apple's per-unit material cost."
Overall, the most expensive aspect of the new iPhone 6s Plus is its display, with the addition of 3D Touch slightly increasing the component cost to $52.50 this year. Other high-cost components include the iPhone's new 12-megapixel rear camera and 5-megapixel front-facing camera that together are estimated to cost $22.50, and the A9 chip at $22.00. IHS also points out the incremental cost differences between each step-up in memory capacity, which sees a small component cost difference when in comparison to Apple's $100 jump between capacities like 16 GB and 64 GB, for example.
"NAND Flash is now so cheap it's almost irrelevant, but Apple monetizes this difference with consumers, to the tune of $100 for each additional step up in memory capacity," Rassweiler said. "For example, a 64 GB iPhone now costs Apple about $17 more to make than a 16 GB iPhone, but Apple charges iPhone buyers $100 more for the increased memory. This is part of Apple's ongoing strategy to improve profits by selling a product mix that is heavier in the higher-end iPhones."
Overall, IHS iSuppli's teardown concluded that the iPhone 6s and iPhone 6s Plus see most of their value additions in the form of overall durability for the new devices. This is thanks to new components like the 7000 Series aluminum case, an upgraded Gorilla Glass 4 cover, as well as "additional gaskets and seals" that IHS says improves the water resistance of the new iPhones, which has been studied in the days since release.
Earlier in the year, Apple CEO Tim Cook went on the record during one of the company's annual earnings calls, denouncing component cost teardowns like IHS iSuppli's of the iPhone 6s Plus. "I've never seen one that is anywhere close to being accurate," Cook said.
Such estimates do not take into account an array of costs, including research and development, software, and licensing costs, making profit margins appear much larger than they actually are. And given the proprietary nature of many of the components, cost estimates can be rough. The estimates can, however, be somewhat useful in comparing differences between generations to get a general idea of the potential cost impact of hardware changes.