Amazon has tightened restrictions on the sale of USB-C cables and adapters on its online store in an effort to protect customers from risky substandard products (via The Verge).
The online retailer added non-compliant USB-C cables to its list of prohibited items, following a flood of potentially damaging third-party cables onto the market. The new note on Amazon's page of undesirables prohibits "any USB-C™ (or USB Type-C™) cable or adapter product that is not compliant with standard specifications issued by 'USB Implementers Forum Inc.'"
The update was spotted by Google engineer Benson Leung, who has been testing USB-C cables sold by Amazon in an effort to highlight the risks of non-compliant products. Leung was spurred into action after a USB-C charging cable he bought destroyed a Chromebook Pixel he was working on in compatibility tests.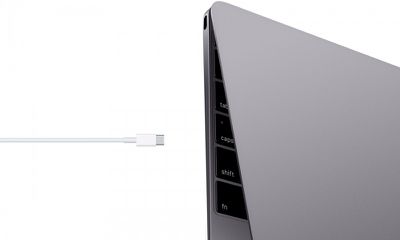 Apple introduced the USB-C standard to its Mac range with the release of the 12-inch Retina MacBook. The new standard allows charging, data transfer, and video over a single connector. As a result, USB-C cables are capable of carrying a lot more power than traditional USB connectors, making faulty units a risk to computers and power supplies, and potentially a fire hazard.
Apple states in a support document that the 12-inch MacBook will charge from USB-C power adapters not manufactured by Apple if they adhere to the USB Power Delivery specification. Based on Leung's extensive testing, 30 percent of third-party USB-C cables currently available do not meet USB-IF standards. Apple's USB-C ports are designed to shut down if a larger-than-expected amount of power is detected flowing through cables, however Amazon's ban should mean cables that can damage or shut down a device will no longer be offered through the site.
Apple suffered its own USB-C problems when a "design issue" in charging cables shipped with certain Retina MacBooks failed to supply sufficient charge when connected to a power adapter. Apple is providing new, redesigned USB-C charge cables to MacBook owners with faulty cables at no cost.