New Images Depict Alleged 7.04 Watt-Hour Battery Designed for iPhone 7
We've already seen several alleged part leaks for the next-generation iPhone 7, and now Chinese site Digi.tech.qq.com [Google Translate] (via HDBlog.it) has shared images of what is believed to be the battery that will be included in the device.
The battery lists a capacity of 7.04 watt-hours, slightly larger in capacity than the equivalent battery capacity listed for the iPhone 6s (6.61 watt-hours) and almost identical to the iPhone 6 (7.01 watt-hours). Voltage is not visible on the alleged iPhone 7 battery, so the exact charge capacity is not yet available, but should be similar to the iPhone 6 battery.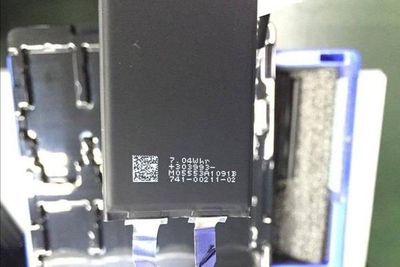 Rumors suggest the iPhone 7 and 7 Plus will be thinner than existing iPhones, with Apple perhaps making room for the similarly-sized battery by eliminating the headphone jack and cutting down on the extra space around the Lightning port.


While we still have several months to go before the iPhone 7 debuts, we've already heard a long list of rumors about the device and we've seen multiple part leaks. The iPhone 7 is said to include a faster A10 chip, a Smart Connector, up to 256GB storage space, stereo speakers, no headphone jack, a thinner design with no rear antenna bands, a faster LTE modem, and dual cameras in the iPhone 7 Plus model.