SanDisk's 256GB Flash Storage is Possible Option for iPhone 7 Plus
Following a rumor that Apple may sell an iPhone 7 Plus with 256GB storage, Italian website HDblog has shared pictures of a SanDisk 256GB NAND flash memory chip that could be appropriate for the next-generation smartphone.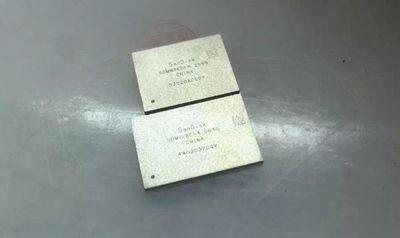 SanDisk's 256GB NAND flash chip (top) and older 64GB chip (bottom)
Apple has used SanDisk flash memory chips in a number of previous iPhone models, including the iPhone 5, iPhone 6, and iPhone 6 Plus, while other models have used NAND flash chips from Samsung, SK Hynix, and Toshiba.
SanDisk has managed to reduce the size of its 256GB flash memory chip to be smaller than its 64GB counterpart, which makes it a viable option given rumors that the iPhone 7 lineup could be up to 1mm thinner with a larger 3,100 mAh battery.
It remains unclear if the iPhone 7 Plus will still have 16GB base storage, which has been a highly contested option in recent years, or if Apple will opt for larger storage sizes such as 32GB, 128GB, and 256GB at existing price points.
Other rumored iPhone 7 series changes include a faster TSMC-built A10 chip, Smart Connector, dual-lens camera, stereo speakers, Intel 7360 LTE modem, no 3.5mm headphone jack, waterproofing, wireless charging, relocated antenna bands, and more. iPhone 7 Plus models could have 3GB of RAM.