Intel's Upcoming Ultra-Fast Optane SSD May Come to MacBooks
Last summer, Intel announced 3D Xpoint, a new class of memory labeled as a "major breakthrough in memory process technology." 3D Xpoint is 1,000 times faster and more durable than NAND Flash storage, as well as 10 times denser than the DRAM chips used in computers.
The innovative, transistor-less cross point architecture creates a three-dimensional checkerboard where memory cells sit at the intersection of word lines and bit lines, allowing the cells to be addressed individually. As a result, data can be written and read in small sizes, leading to faster and more efficient read/write processes.
Intel has promised that the first 3D Xpoint (pronounced "crosspoint") product will be coming in early 2016 in the form of its Optane solid state drives, which may be of interest to Apple. According to Macworld, 3D Xpoint is compatible with NVM Express (NVMe), an SSD protocol that offers improved latency and performance over the older AHCI protocol.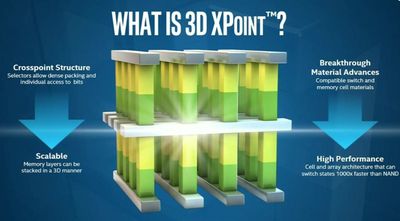 Apple's Retina MacBooks already use NVMe technology, and it's likely Skylake Macs set to be released across 2016 will also support NVMe. With NVMe compatibility built into 3D Xpoint, Apple could adopt Intel's Optane solid state drives for super fast performance speeds that significantly outpace what's possible with current SSDs. As Macworld points out, Apple is often an early adopter of emerging technology, having been the first company to implement Thunderbolt and chip technology from Intel.
While Intel is planning to make its Optane SSDs available in 2016, the technology is unlikely to see widespread adoption right away. 3D Xpoint storage solutions will likely exist alongside NAND Flash options until prices become affordable enough for use in mass-produced products. Intel is also working on Optane memory DIMMs.
If Apple does choose to use Intel's Optane SSDs in future Macs, it could be some time before Optane-equipped machines are available. Upgraded Macs that are expected in 2016 will likely continue to use NAND Flash, but as mentioned previously, speed improvements could come in the form of wider NVMe adoption.
Skylake chips appropriate for many of Apple's Macs are currently available or will be available in the near future, so we may begin seeing the the first Mac upgrades in the next few months, perhaps at Apple's annual Worldwide Developers Conference.