Intel and Micron Unveil New Memory Class That's 1,000 Times Faster Than Current Technology
Intel and Micron today announced 3D Xpoint, a new class of memory that the companies are calling a "major breakthrough in memory process technology." 3D Xpoint (pronounced cross point) is said to be up to 1,000 times faster and more durable than the NAND Flash storage that's currently used in mobile devices and solid state drives. It's the first new memory chip to come to the market in 25 years.
Intel and Micron say that 3D Xpoint was built to create a non-volatile, high-performance high-capacity storage and memory solution that was also affordable. In addition to being faster than NAND Flash, it's also 10 times denser than the DRAM chips used in computers, which means much more data can be stored closer to the processor and accessed quickly.
A smartphone equipped with 3D Xpoint technology would potentially see much faster performance than a smartphone using existing technology. 3D Xpoint is also versatile -- fast enough to replace DRAM and stable enough to be used for long term storage. Initial capacity is 128 Gigabits (16GB) per die across two memory layers, but future generations of the 3D Xpoint will be able to increase the number of memory layers to improve system capacities.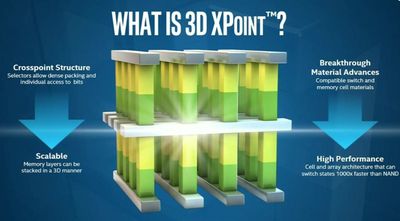 The innovative, transistor-less cross point architecture creates a three-dimensional checkerboard where memory cells sit at the intersection of word lines and bit lines, allowing the cells to be addressed individually. As a result, data can be written and read in small sizes, leading to faster and more efficient read/write processes.
Intel and Micron provide several use cases for 3D Xpoint technology, suggesting it will let retailers quickly detect fraud patterns in financial transactions and allow healthcare researchers to process and analyze larger data sets in real time. For consumers, 3D Xpoint will allow "faster interactive social media" and more immersive gaming experiences.
"One of the most significant hurdles in modern computing is the time it takes the processor to reach data on long-term storage," said Mark Adams, president of Micron. "This new class of non-volatile memory is a revolutionary technology that allows for quick access to enormous data sets and enables entirely new applications."
As a nascent technology, 3D Xpoint is designed to complement existing NAND Flash and DRAM options because it will likely be too expensive to serve as a standalone option at launch, but in the future, it has the potential to introduce dramatic performance improvements in mobile and desktop products.
According to Intel and Micron, 3D Xpoint samples will be available later this year to select customers, but mainstream use may be a ways off. It is not clear if Apple will adopt 3D Xpoint when it first becomes available, but the company does often aim to implement cutting edge technology in its devices for maximum speed and performance.