Faster 'NVM Express' SSD Interface Arrives on Retina MacBook and OS X 10.10.3
Apple has quietly introduced support for the next generation NVM Express (NVMe) interface to SSD Flash drives in their latest OS X 10.10.3 update as well as in the new Retina MacBook which was released on April 10th.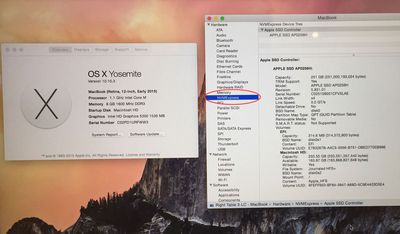 System Report on new Retina MacBook
The NVMe software interface replaces the AHCI software interface in Apple's previous notebooks, and offers improved latency and performance over the old protocol. Anandtech
offers a good overview
between the technologies:
AHCI (Advanced Host Controller Interface) dates back to 2004 and was designed with hard drives in mind. While that doesn't rule out SSDs, AHCI is more optimized for high latency rotating media than low latency non-volatile storage. As a result AHCI can't take full advantage of SSDs and since the future is in non-volatile storage (like NAND and MRAM), the industry had to develop a software interface that abolishes the limits of AHCI.

The result is NVMe, short for Non-Volatile Memory Express.
The new protocol is not to be confused with the underlying hardware that connects the SSD to Apple's notebooks. Apple has already upgraded the physical interface to the much faster PCIe connectors a number of years ago.
Going into the future, NVMe will allow Apple's hardware to take further advantage of the performance of SSDs as well as improve battery life with less time spent transferring data. Intel expects NVMe to also be coming to tablets and phones in the near future.
Thanks Jonathan