Eddy Cue and Craig Federighi Discuss Bloated Software Accusations, Upcoming iTunes Plans
Eddy Cue and Craig Federighi spoke with John Gruber in this week's episode of "The Talk Show," where they commented on recent opinions that Apple's software isn't up to snuff and offered some details on a new version of iTunes coming in OS X 10.11.4.
Last week, Re/code's Walt Mossberg wrote a piece entitled "Apple's Apps Need Work," pointing towards a "gradual degradation" in quality in several Apple apps and services like iCloud, Mail, and Photos. iTunes for the desktop was one of the most heavily criticized apps, with Mossberg saying he "dreads" opening it because it's "bloated, complex, and sluggish."
During the podcast, Gruber asked Eddy Cue about Mossberg's opinion, prompting him to give some background on how Apple wanted the iTunes experience to work. iTunes, Cue said, was designed at a time when people synced their devices via cable, so offering a centralized place with all of a user's content was key. With Apple Music, Apple decided on a design that would put music front and center while also integrating cloud music with hard copies purchased through iTunes.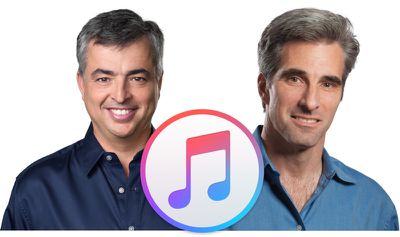 "We decided in the short term that what we wanted to do is really make it when you're in music and iTunes, all you see is music," said Cue. He went on to explain that Apple is continually re-evaluating iTunes, and there are plans to release a refreshed version alongside OS X 10.11.4 next month.
"That's not to say we are continuing... and will continue to think about what's the best way to architect the app and whether it makes sense to do a separate app for some of the components that are in there or all of the components that are in there. But right now, we think we've designed iTunes and you'll see we've got a new refresh with the new version of OS X that's coming out next month that makes it even easier to use in the music space."
Cue and Federighi went on to talk about the issues that arise whenever Apple makes major changes to software, as there are always people who prefer not to see significant changes. According to Federighi, there's a "tricky balancing act" with software updates.
"People are serious about their music and their collection, and so I think we debate pretty heavily internally the right way to evolve these things. We tend to err on the side of being pretty bold, but there's a lot of responsibility.
The two also highlighted the immense scale that Apple is working on, with more than 1 billion active devices and 782 million iCloud users. More than 200,000 iMessages per second are sent at peak times, and there are more than 750 million transactions per week in the iTunes Store and the App Store. Apple Music has grown to 11 million subscribers and more than 2.5 million errors in Maps have been fixed, a number presented as evidence that Apple is continually working on its software.
"I would say first there's nothing we care about more," said Federighi, speaking on Apple's software and services. He believes Apple's core software quality has improved significantly over the course of the last five years, but pointed towards an ever-raising bar that pushes Apple to keep evolving and implementing new features. "Every year we realize the things we were good at last year and the techniques we were using to build the best software we can are not adequate for the next year because the bar keeps going up," he said.
Federighi and Cue's full discussion with John Gruber about the state of software, the desktop version of iTunes, and Apple's efforts to expand its public beta program, can be listed to over on the Daring Fireball website.