Apple continues to strengthen its foothold in the Indian smartphone market by now reducing the price of the two-month-old iPhone 6s and iPhone 6s Plus in the country. According to a report by The Times of India, sales for the new iPhones have dived following an upsurge during Diwali festivities in November.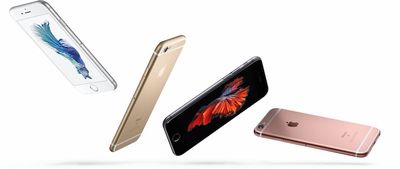 As a result, Apple has cut the price of the 6s and 6s Plus by up to 16 percent from the original price point. The iPhone 6s 16GB model began at 62,000 Rupees in October, and now sells for between 52,000 and 55,000 Rupees, with prices varying between retail locations. All storage sizes of both the iPhone 6s and iPhone 6s Plus received price cuts, with the average difference in price between the October launch date and now being about 15 percent lower.

Below is the approximate prices of iPhone 6s and iPhone 6s Plus on one of the country's biggest e-commerce website:

- iPhone 6S (16GB): Rs 48,499
- iPhone 6S (64GB): Rs 62,849
- iPhone 6S (128GB): Rs 74,940
- iPhone 6S Plus (16GB): Rs 61,999
- iPhone 6S Plus (64GB): Rs 75,499
- iPhone 6S Plus (128GB): Rs 85,999
One advantage to lowering the iPhones' price point, according to a few anonymous retail executives, is making the new generation of iPhone more enticing of an upgrade for users still on the 6 and 6 Plus from 2014. On average, the iPhone 6s and 6s Plus were Rs 8,000 to Rs 9,500 more expensive than the models released the year before, and even about Rs 14,000 to Rs 16,000 more expensive than the same versions launched in the United States, Middle East, and Hong Kong.

The reduction also narrows the gap with prices of iPhone 6 devices launched in 2014, making an upgrade more attractive for customers. "The price difference between the iPhone 6 and iPhone 6s was a lot, so many customers are not willing to upgrade to the new model," said a senior executive of another national retailer.
The new price cut follows a similar one for the iPhone 5s in India last week, which saw the 2013 iPhone reduced by nearly half of what it was selling for in September: 44,500 Rupees to 24,999 Rupees.
Tarun Pathak, senior analyst at Counterpoint Technology Market Research, noted that the price reduction of the 5s could easily "take the wind out of iPhone 6s sales" in the immediate future given the large gap in price between the two. But in the January to September timeframe, he sees the price cuts "re-igniting" demand for the 6s and 6s Plus in India.