Amazon Prime Video Coming to New Apple TV Possibly Within a 'Few Weeks'
Last month, Amazon removed all Apple TV and Chromecast product listings from its website because the devices do not offer its Prime Video streaming service, which the online retailer said may cause confusion for customers. Nearly a month later, the new Apple TV remains unavailable on Amazon, but that could soon change.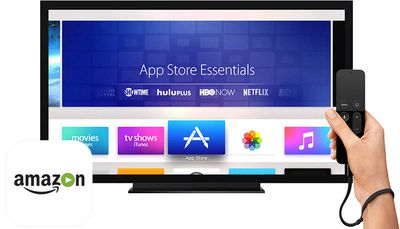 Amazon appears to have confirmed to engineer Dan Bostonweeks that it is developing a tvOS app for Prime Video that could launch before the end of 2015. "Hopefully, within a few weeks span, you will be able to see the Amazon Instant Video app feature on your Apple TV," the company purportedly said in an email.
Apple was wrongly criticized by some in October for seemingly not allowing Prime Video on the new Apple TV, but shortly after the company provided a statement to
BuzzFeed News
emphasizing that "all are welcome" on the platform -- Amazon simply had not submitted a Prime Video app for the tvOS App Store.
Apple tells BuzzFeed News that "all are welcome" on its new Apple TV platform. But Amazon — which recently purged Apple TV from its store — doesn't have a Prime Video app in the Apple TV App Store. And as of a few days ago, it hadn't submitted one.
Amazon told BuzzFeed News it "doesn't have anything to share" on the topic at the time, but it now appears the company is actively developing a tvOS solution. Amazon Video allows Prime members to instantly stream tens of thousands of movies and TV episodes, with hundreds of thousands of titles available to buy or rent.
Amazon Video for iOS is free on the App Store and accessible by Amazon Prime members. The service is also available on Android, Fire OS, Amazon Fire TV, Roku, PS3, PS4, Xbox 360, Xbox One, Wii, Wii U, the web and select TV and Blu-ray players from LG, Panasonic, Samsung, Sony and Vizio.