2017 Mirage Will Be First Mitsubishi Vehicle in U.S. to Support CarPlay
Mitsubishi has announced that the 2017 Mirage will feature both CarPlay and Android Auto, becoming the first Mitsubishi vehicle in the U.S. to support Apple's in-dash system. The new subcompact hatchback, introduced at the 2015 Los Angeles Auto Show, is positioned as Mitsubishi's entry-level vehicle in its current lineup.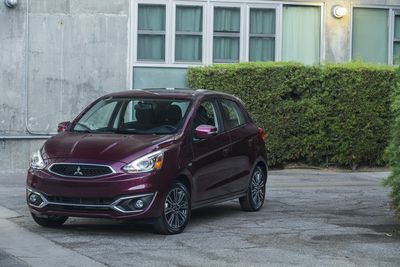 Mitsubishi's 2017 Mirage GT
Mitsubishi also unveiled its 2016 Outlander Sport with a 6.1" in-dash touchscreen, but the crossover still uses the Japanese carmaker's proprietary audio system. Mitsubishi plans to expand CarPlay to future vehicles in multiple markets, but the carmaker's popular Lancer and Outlander models remain without CarPlay in the U.S.
Mitsubishi joins several other CarPlay partners, including Cadillac, Chevrolet, Buick, GMC, Honda, Porsche and Volkswagen. Apple says several other automakers are committed to the platform, including BMW, Dodge, Ford, Kia, Mercedes-Benz, Nissan and Toyota, but few have disclosed their plans.

CarPlay in Mitsubishi's 2017 Mirage GT
Mitsubishi's
2016 Pajero
also features CarPlay in Australia and select European markets.