First Volkswagen Cars With CarPlay Support Arriving at Dealerships
Volkswagen today announced that its first 2016 cars with CarPlay support are arriving at dealerships this week, equipped with the company's next-generation CarPlay-enabled MIB-II infotainment system.
In addition to supporting CarPlay, the MIB-II system also includes support for Android Auto and it comes equipped with Volkswagen's own Car-Net apps, enabling features like remote lock control, remote honk and flash, parking info, stolen vehicle location, automatic crash notifications, diagnostics, and vehicle monitoring. While CarPlay and the MIB-II system don't carry a subscription fee, the Car-Net suite of apps will be priced at $199 per year with 6 months free up front.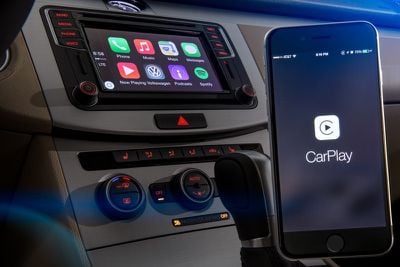 Volkswagen was not one of the first CarPlay partners announced during CarPlay's debut, but the manufacturer promised CarPlay support in its 2016 models back in January. According to Volkswagen, most of its 2016 models will include the new MIB-II system, aside from entry-level models.
Four different MIB-II systems with CarPlay will be offered, varying based on model and trim package. Entry-level VW models include a 5-inch resistive 400x240 resolution touch screen that does not include CarPlay support, while 6.3 and 6.5-inch capacitive touchscreens that support multi-touch gestures, CarPlay, and App-Net will be available in select trims.
Higher trim levels will include additional features like 2.5D navigation, electric vehicle functions, and more, while the 2016 e-Golf SEL Premium model alone will receive an 8-inch capacitive touchscreen with CarPlay support.
The first 2016 Volkswagen models, the Golf R and the Tiguan, are already arriving in dealer showrooms as of late July, and additional models will be released with the MIB-II system and CarPlay support later in the year.