Apple Pay Launching in Canada With American Express on November 17
Apple Pay is expected to expand to its third market this week, launching in Canada this Tuesday, November, 17, reports iPhone in Canada. As previously announced, Apple Pay will be launching through an exclusive partnership with American Express, initially limiting the reach of Apple's payments service in the country.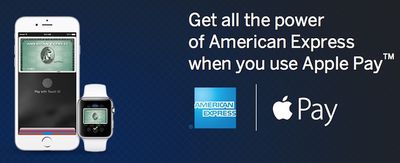 According to American Express, the service is set to launch this Tuesday, November 17, 2015. Customer service representatives we spoke with confirmed the date over the phone numerous times, and is in line with what you've told us as well.
As reported by The Globe and Mail last month, sources indicate Apple partnered with American Express in order to expedite the Apple Pay launch in the country, as discussions with the major Canadian banks and other credit card companies had been "dragging."
Beyond Canada, Apple is also partnering with American Express to bring Apple Pay to Australia by the end of the year and to Spain, Singapore, and Hong Kong next year. Apple Pay launched in the United States alongside iOS 8 in September 2014 and expanded to the United Kingdom in July of this year.