16" MacBook Pro Now Available
Apple Board Member Mickey Drexler on Steve Jobs' iCar Dreams, Apple's Living Room Push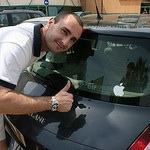 Speaking at
Fast Company
's Innovation Uncensored conference earlier this week, J. Crew CEO and Apple board member Mickey Drexler
shared his thoughts
(
via Business Insider
) on several topics related to Apple, including Steve Jobs' dream to build an "iCar" that would have revolutionized the automobile industry. While the idea obviously never developed very far, it is an intriguing glimpse into Jobs' interests and ambitions.
Drexler also mentioned in passing that Apple will be making a push into the living room "in the near future", fueling further interest in and speculation on an Apple television set and perhaps ultimately content deals that could remake how television content is consumed.
Look at the car business – it's a tragedy in America. Who's designing the cars? They talk about expense, they talk about this, and then you say 'Who's designing the cars?'

Steve's dream before he died was to design an iCar. It would have been probably 50% of the market. He never did design it. In the fashion business, you know, Apple has ten products and then they leave alone...the living room they're dealing with at some point in the near future.
Drexler closed with a quip about how difficult it is to take over a company that is doing well, comparing his move to take over struggling J. Crew nearly a decade ago with Tim Cook's move to the CEO position at Apple.
(Photo via Flickr/juanpol)