The iPad Pro is less than a month from launch -- with an unspecified date for the device sometime in November -- but a few rumors out of Apple's supply chain yesterday are already pointing to the company's expected sales figures for the 12.9-inch display tablet. According to the supply chain sources (via DigiTimes), Apple has placed "limited orders" for the iPad Pro for the 2015 holiday season, leading into the first quarter of 2016, pointing towards a "conservative attitude" regarding the sales of the larger-screened iPad.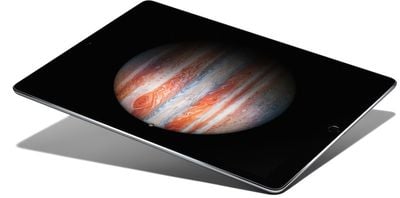 Specifically, the sources say the company has placed orders for less than 2.5 million iPad Pro units for the end of 2015. After that, Apple is believed to take a wait-and-see approach to the volume amount for Q1 2016, which could be even lower than 2.5 million if holiday sales this year aren't impressive enough for the Cupertino-based company. The supply chain sources note that since most businesses are always looking to cut costs, the top-tier pricing of the enterprise-focused iPad Pro, and its accessories, may in fact not hit its target demographic as Apple expects.
The tablet market as a whole has stagnated over the past few years, as more and more users remain unconvinced of a reason to upgrade yearly for such a tertiary device. In July, iPad sales were found to have been in decline for six consecutive quarters, with much hope aimed at the 2015 holiday season's launch of the new iPad line. With today's conservative iPad Pro estimates, no iPad Air 3 launching this year, and Apple's own soft launch of the iPad mini 4, it seems like iPad sales -- and the tablet market as a whole -- may not rebound as much as expected this holiday.