Apple Aiming to Increase Music Library Matching Limit to 100,000 Tracks 'Before the End of the Year'
Just ahead of the launch of Apple Music in late June, Apple's senior vice president of Internet Software and Services Eddy Cue took to Twitter to reveal that Apple was "working to" increase the limit for iTunes Match libraries and Apple Music's similar scan-and-match feature from the current 25,000 tracks to 100,000 tracks for iOS 9.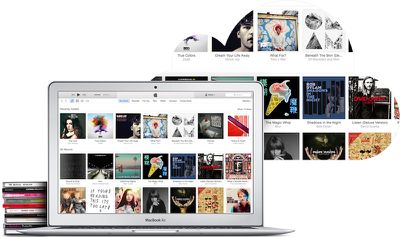 The arrival of iOS 9 last month did not come with a corresponding increase for the library matching limits, and users in our forums and elsewhere have been wondering when the increase will be rolled out or if there has been a change in plans.
In an effort to answer that question, MacRumors asked Cue for an update on the limit increase, and he tells us Apple is "definitely working on it" and that he expects it will be released "before the end of the year."
Apple's $25/year iTunes Match service and Apple Music's matching feature allow users to add their own songs that are not available from the iTunes Store catalog to the cloud, making them available on other devices using the same Apple ID. The services scan a user's music library to determine which tracks are already available in the iTunes Store, automatically making those available in the user's library. Only those tracks that are not matched to the iTunes Store catalog are then uploaded to the cloud, saving time and bandwidth.
The scan-and-match functionality has been limited to libraries of 25,000 tracks since iTunes Match debuted in 2011, although tracks purchased from the iTunes Store do not count toward this limit. Users with larger music libraries have had to use workarounds such as splitting their tracks into two iTunes libraries in order to take advantage of the matching services, but with the impending increase to a 100,000-track limit, many of these users will no longer need to resort to these workarounds.