Adobe Unveils New Mobile Apps, Adobe Portfolio and Updates to Desktop Apps at Adobe MAX
Adobe is hosting its annual Adobe MAX creativity conference today, where the company is announcing new mobile apps, updates to a number of Creative Cloud products, and unveiling new services.
The two new mobile apps Adobe is releasing today include Photoshop Fix and Capture CC. Photoshop Fix was highlighted on stage at Apple's recent iPad Pro unveiling, where it was used on the new 12.9-inch tablet. Photoshop Fix [Direct Link] is an image retouching and restoration-focused app that includes powerful Photoshop tools like the Healing Brush and Liquify.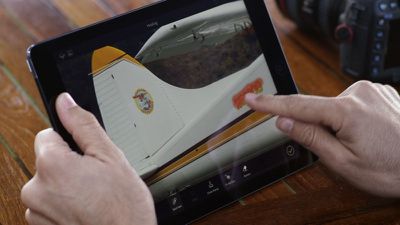 Capture CC [Direct Link], Adobe's second new mobile app, combines the capabilities of several existing Adobe apps including Adobe Brush, Adobe Shape, Adobe Color, and Adobe Hue, making the tools from each of these apps accessible in a single app. Several other Adobe apps like Lightroom for iPhone and iPad, Photoshop Mix, Photoshop Sketch, Illustrator Draw, Premiere Clip, and Comp CC are also receiving minor updates today.
Each of Adobe's apps interfaces with its range of Creative Cloud desktop apps via CreativeSync technology, allowing files to be transferred and worked on between mobile and desktop devices.
Most of Adobe's desktop apps are receiving new features today, with the changes for more popular apps listed below.
Both InDesign CC and Illustrator CC are being updated with new Touch workspaces. Illustrator CC is also gaining a new Shaper tool that combines 12 tools and panels in one, non-destructive Live Shapes, and improved Smart Guides, while InDesign CC is getting new online publishing features. Premiere Pro CC includes expanded UltraUD support for editing 4K to 8K video footage, plus it will gain support for HDR workflows.
Photoshop CC is gaining Artboard features for better visualization of design layouts. Adobe's Design Space design-centric Photoshop layout is also now available to all customers. Lightroom CC is gaining improved importing tools and integrated training content for beginners, while Lightroom for web is being enhanced, adding Photoshop editing capabilities for adjusting exposure, temperature, white balance, and more.
Several of Adobe's apps, including Photoshop CC, Lightroom CC, Illustrator CC, InDesign CC, and Premiere Pro CC are being updated with new Touch capabilities usable on Windows tablets and Apple trackpad devices. Adobe Fuse CC is being added to existing Creative Cloud plans.


On the services side, Adobe is adding video support to its Adobe Stock feature, allowing users to download and purchase video content right within the CC desktop apps. Adobe is also announcing Adobe Portfolio, which is free with any Adobe Creative Cloud plan. With Adobe Portfolio, Adobe customers can create simple portfolio websites that are powered by Behance.
Adobe will also be debuting a new CC desktop app that's being developed under the codename "Project Comet." Details on Project Comet will be available at the MAX conference.
Adobe's mobile apps are all available for free beginning today and updates to Creative Cloud desktop software will ship to Creative Cloud members before the end of the year. Adobe's software is available from its website, and pricing can be found here.