FlightAware Once Again Offers Tool to Track iPhone Pre-Order Shipment Flights
Apple began shipping iPhone 6s and 6s Plus pre-orders on Saturday and now FlightAware, a site that offers live flight tracking, has once again begun offering a tool that allows users to track the flights carrying their iPhones after they receive their tracking number. FlightAware also offered the tool last year.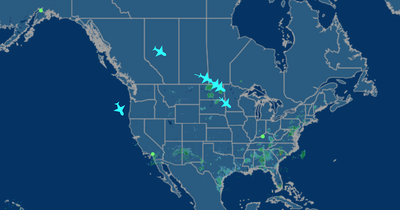 FlightAware says that users who have their UPS tracking number can use their tool to match their "departure scan" with one of the departure times listed in their tool to determine which flight their iPhone is on. The tool will be updated as FlightAware learns more about Apple's shipping strategy for the new phones.
Currently, many flights are on their way to Louisville, Kentucky's Worldport, which is UPS' worldwide air hub. Additional flights are on the way to Ontario, California.
Those who have not received their UPS tracking numbers can track their packages by reference on UPS' website. To do so, users have to fill out the "track by reference" form and input the phone number listed on their Apple account, the zip code its shipping to and country. This tactic may only work with pre-orders made through Apple.


The first iPhone 6s and 6s Plus shipments are expected to arrive Friday, September 25. However, sometimes lucky customers receive their phones early due to shipping errors. Apple has ended launch-day pre-orders and in-store reservations for the two new phones and will not offer walk-in sales for them at Apple Stores in Delaware, Hawaii, Alaska, New Hampshire, Oregon, China, Hong Kong and Japan.
MacRumors readers may also want to join in on the dedicated pre-order threads on the forums, where users are sharing tracking information and socializing while waiting for their new iPhones.