No Walk-in iPhone 6s Sales at Apple Stores in 4 U.S. States, China, Japan, and Hong Kong
While Apple has ended launch-day pre-orders and in-store reservations for the iPhone 6s and 6s Plus, the company is suggesting that those customers still intent on purchasing one on launch day visit an Apple retail store Friday for a chance at scoring some of the remaining launch-day stock at those locations. But for customers in four U.S. states, China, Japan, and Hong Kong, these walk-in sales are not an option, notes The Oregonian.
The disclosure was made in a footnote on Apple's press release this morning making a final announcement about Friday's launch plans and reporting record adoption of iOS 9: "iPhone is available by reservation only in China, Hong Kong, Japan and US stores in tax-free states."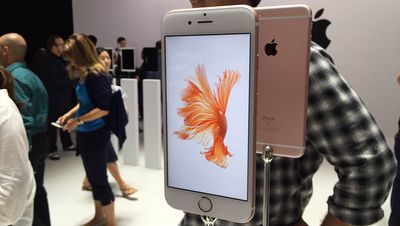 The four U.S. states with Apple retail stores that are affected by this policy include Oregon, Delaware, New Hampshire, and Alaska. Montana is the fifth U.S. state without a statewide sales tax, but Apple does not have any retail stores located in the state.
The reason behind the ban on walk-in sales in these states is likely their attractiveness to scalpers.
Because Apple limits the number of unlocked phones, the brokers – sometimes called "sharks" – recruit homeless people and the elderly to wait in line and buy phones on their behalf. The phenomenon lasted for months outside Apple's downtown Portland Apple Store after last year's September launch of the iPhone 6 and 6 Plus.

While sharks patrol Apple stores all over the country, they are especially visible in Portland. That may be because Oregon doesn't have a sales tax, so sharks operating here can add several percentage points to their profits by getting their phones.
Hong Kong has long been a popular location for iPhone scalpers to operate as they attempt to move gray-market phones into China, but with China having taken on increased importance for Apple and in fact being included in the first wave of iPhone 6s launches, both countries are likely in Apple's crosshairs this time around as it hopes to limit those snapping up limited supplies of the new devices to resell for significant profits.