Apple Ends Launch Day Online Pre-Orders and In-Store Reservations for iPhone 6s and 6s Plus
With four days to go until the launch of the iPhone 6s and 6s Plus, Apple is no longer offering launch-day delivery of any iPhone 6s or 6s Plus models ordered online and is no longer allowing customers to make reservations for in-store purchases, including through Apple's new iPhone Upgrade Program, on Friday.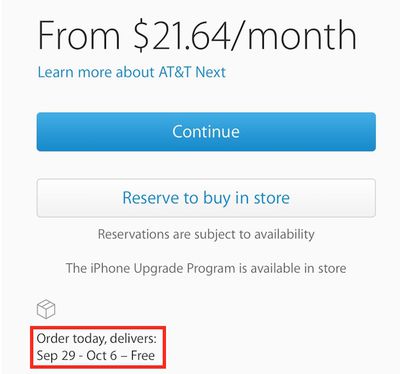 While shipping estimates for iPhones 6s Plus models in particular quickly slipped to 2-3 weeks or longer following the start of pre-orders on September 12, many iPhone 6s models remained available for launch day delivery until today.
Customers looking to place online pre-orders for iPhone 6s models that had until recently remained available for launch day are now being quoted 1-2 week shipping with delivery in the range of September 29 through October 6 or later.


Apple's in-store reservation system has been shut down entirely for the remainder of this week and will reopen at 8:00 AM on Saturday, September 26 to allow customers to reserve from each store's daily shipments of iPhones. Apple does still invite customers without reservations on Friday to attempt to purchase an iPhone, but unreserved supplies will likely be tight and lines long.