iPhone 6s and 6s Plus Orders Now Shipping Ahead of September 25 Launch
Just days after iPhone 6s and iPhone 6s Plus pre-orders began shifting to "Preparing for Shipment" status on the Apple Online Store, several customers in the United States and abroad have received notice that the smartphones are now shipping from China for estimated delivery on September 25.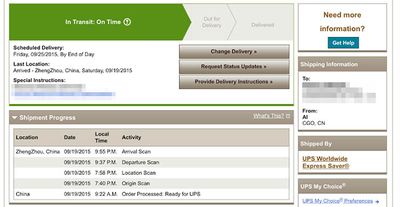 iPhone 6s Plus from Apple scheduled for September 25 delivery via UPS
iPhone 6s and iPhone 6s Plus pre-orders have been shipped by both Apple and carriers such as Verizon and T-Mobile. Most devices are scheduled for overnight shipping next Thursday, meaning that customers should begin receiving their new iPhones on Friday morning, the same day the smartphones launch in twelve countries.

iPhone 6s from Verizon scheduled for overnight shipping on September 24
Apple requires that couriers such as UPS and FedEx in the United States hold iPhone 6s and iPhone 6s Plus deliveries until September 25, but in years past some lucky customers have received their device slightly earlier. Meanwhile, New York City and Philadelphia residents
could face delays
due to Pope Francis visiting next week.
iPhone 6s and iPhone 6s Plus pre-orders began on September 12 at 12:01 AM Pacific in the United States, Australia, Canada, China, France, Germany, Hong Kong, Japan, New Zealand, Puerto Rico, Singapore and the United Kingdom. Most iPhone 6s Plus and Rose Gold models are now estimated to ship in 3-4 weeks or later.
There still remains the option of standing in line at an Apple Store for a chance to purchase a specific iPhone model on launch day, but expect long lines at most locations. The new iPhones go on sale September 25 at 8:00 AM local time on a first come, first served basis for customers without reservations.

iPhone 6s and iPhone 6s Plus Pre-Order Discussion