Apple's Beautiful New Store in Brussels Opens to Long Lines and Fanfare
Apple celebrated the grand opening of its newly designed Apple Store in Brussels today with much fanfare, ranging from CEO Tim Cook tweeting to long lineups and media forming around the entrance prior to the doors opening. The store is the first located in Belgium at Avenue de la Toison d'Or in a busy shopping area.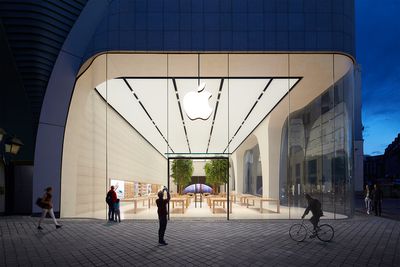 The new Apple Store is the first to feature a next-generation Jony Ive-inspired design with large and virtually seamless curved glass panels on the facade, light boxes extending the length of the ceiling, indoor trees, touch-sensitive sequoia wood tables, new wooden shelves for Beats headphones and other accessories, and a massive digital screen at the back of the store for product marketing.
Apple blog
One More Thing
was on hand for the Apple Store grand opening in Brussels today and recorded some
exciting footage
as the doors opened. As with many other grand openings, the day started with a countdown among the hundreds of people lined up outside the store, at which point the doors opened and customers were cheered on by retail employees as they entered.
Apple recently
shared a new video
that highlights the work of several comic artists in Brussels, which is known for its tradition of comic art, to celebrate the grand opening. The store is open on Monday-Saturday between 10 AM and 7 PM local time and offers a Genius Bar, Workshops and other regular services.
(Thanks, Jan!)