The Wall Street Journal today revealed that Apple CEO Tim Cook will speak at the WSJ.D conference in October. The conference brings together tech CEOs, founders and pioneers to "explore the most exciting tech opportunities emerging around the world."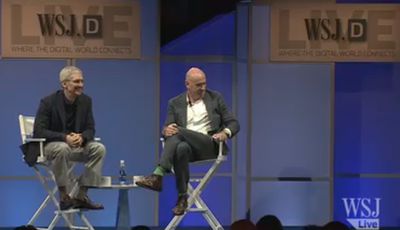 This marks the second consecutive year Cook has spoken at the conference. Last year, Cook commented on an array of topics, including Apple Watch, Apple Pay, the discontinuation of the iPod Classic and more. Last year's highlights included the revelation that the Apple Watch only needed to be charged daily and that the iPod Classic was discontinued because the Cupertino company couldn't get the parts any longer.
Earlier today, Re/code also announced that Apple Pay head Jennifer Bailey will speak at the Code/Mobile conference, which takes place October 7 - 8 in Half Moon Bay, California.
This year's WSJ.D conference takes place October 19 - 21 at The Montage in Laguna Beach, California and will also feature CBS CEO Les Moonves, Sony CEO Kazuo Hirai and more.