WSJ Posts Full Video of Tim Cook Discussing Apple Pay, Apple Watch, and More
In late October, Apple CEO Tim Cook took the stage at the WSJ.D conference in Laguna Beach, California, where he commented on an array of topics including the Apple Watch, Apple Pay, Apple TV, the discontinuation of the iPod classic, and more.
While we covered the content of interview at the time,
The Wall Street Journal
has today posted the
full 30 minute video
of Tim Cook's appearance at the conference, which is well worth watching in its entirety.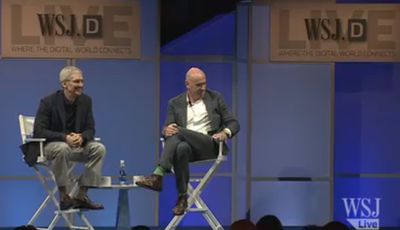 Some highlights of the video include an explanation of why the iPod classic was discontinued (it's impossible to get the parts), the impressive early success of Apple Pay, Cook's thoughts on the Mac and iPad, and some details on the Apple Watch, including hints on the device's battery life. "You're going to wind up charging it daily," said Cook.