While much of the real estate focus for Apple has been on Campus 2 in Cupertino and surrounding areas, the company has also been working hard on expanding its presence in Austin, Texas where it has for many years housed much of its operations and support efforts. Back in 2012, Apple announced a $300 million commitment to expand in Austin with a new seven-building campus and up to an additional 3,600 employees.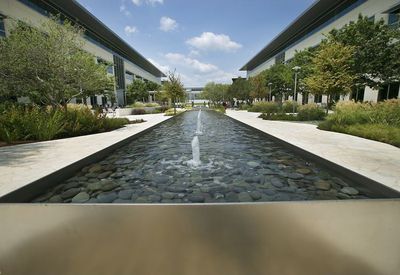 In June 2014, Tim Cook visited the campus as the first buildings opened, and the Austin American-Statesman has gotten a look inside the campus as Apple is rapidly moving toward completion with four buildings done and the remaining three to be completed in about a year.
Along a winding road off Research Boulevard in Northwest Austin, Apple has quietly transformed 38 acres of wooded land into its second-largest operation in the world.

When the California-based technology giant completes the campus in 2016, it will include seven limestone-and-glass office buildings with a combined 1.1 million square feet of space with restaurants, smoothie and coffee bars along with a full-scale gym with two saunas and a spa-like wellness center with services including medical, dental and eye care, acupuncture and massage.


Apple reportedly remains on track to receive a $35 million tax break for reaching its hiring goals and has been working closely with the city to bring on local suppliers from the community.


Even as work continues on the new campus, Apple is looking elsewhere in Austin for further growth opportunities, purchasing a nearby 350,000 square foot campus it had already been leasing and leasing a new 216,000 square foot office building elsewhere in Austin.