Back in March, the State of Texas announced that Apple would be pursuing a major expansion of its facilities in Austin, investing over $300 million to add 3,600 workers to its existing campus dedicated to customer support, sales, and accounting for the Americas. With various government approvals coming over the following months, Apple was then able to purchase the land in July, paving the way for the expansion project to begin.
The Austin American-Statesman now reports that there is indeed major work underway at the site.
There is major earthwork happening on the 38.8-acre site and the concrete shell of what appears to be a three-story office building is taking shape.

There are two cranes on the site, but there are no signs up yet that either describe the project, name the contractor or the eventual occupant.
The report notes that Apple's ultimate plans, which will take up to a decade to build out, consist of seven buildings totaling slightly over one million square feet and three parking garages housing 5,500 spaces.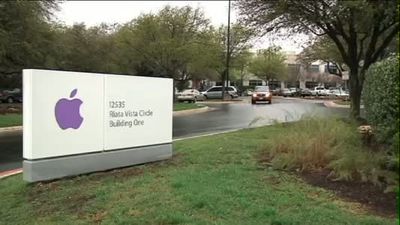 Entrance sign at Apple's existing Austin campus (Source: Your News Now Austin)
Apple is in the midst of a major expansion of its facilities, from data centers in North Carolina, Oregon, and Nevada to its massive
Apple Campus 2
in Cupertino that will house as many as 14,000 employees when it opens in 2016. In the meantime, Apple has been snapping up leased space throughout Silicon Valley and has just
broken ground
on a small campus in Santa Clara, California that will house roughly 1,200 employees.