Real-Time Motion Capture Firm Faceshift May Have Been Acquired by Apple
Based on a few whispers and some research, MacRumors believes that Swiss real-time motion capture firm Faceshift may have been acquired by Apple in recent weeks. Faceshift has been working with game and animation studios, as well as smaller companies, on technology to quickly and accurately capture facial expressions using 3D sensors, including releasing Faceshift Studio software with plugins for animation software like Maya and Unity. More recently, the company has been working toward consumer-facing software such as a Skype plugin that would support real-time avatars for video chat.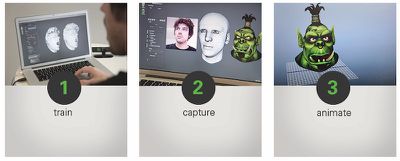 Faceshift was launched in 2011 out of the Computer Graphics and Geometry Laboratory at the Swiss Federal Institute of Technology in Lausanne and has shown off some impressive demos of its technology in a number of settings. In mid-2013, the company brought on industry veteran Doug Griffin, formerly of Industrial Light & Magic and Electronic Arts, to head up a San Francisco office.
Faceshift has clearly been acquired by another company in recent weeks, as noted in a
Swiss company registry filing
from August 19 showing the three original corporate directors having stepped down as of August 14 and being replaced by Baker & McKenzie mergers and acquisitions attorney Martin Frey. Frey does not appear to have any direct links with Apple, but Apple has frequently used Baker & McKenzie's services in a number of countries around the world, including management of some of Apple's Swiss trademarks.
MacRumors
contacted several people in position to know about Faceshift's fate to ask if they could confirm whether Apple has acquired the company, and while none were willing to offer outright confirmation, we received no denials and in one case received confirmation of Apple's current interest in face-tracking technology. Apple did not respond to our request for comment on the possible acquisition.


In one video from the Silicon Valley Virtual Reality expo in May, Griffin discusses Faceshift's technology, noting the demo is running using a Carmine 3D sensor from PrimeSense, which Apple acquired in 2013. Griffin is quick to point out he doesn't know whether Apple has interest in the area, but just three months later, something significant has happened at Faceshift as the company has for the most part shut down its website that formerly advertised its upcoming consumer effort and a partnership for integration with Intel's RealSense 3D camera systems.
So what we're showing right now is the PrimeSense Carmine. It's a camera that was originally the internal guts of the original Kinect. And actually they built a really cool camera a couple years ago -- a really tiny one that's embeddable -- and Apple bought that company. We don't know what's happening with Apple. We're kind of hoping they might do something in the future.
Griffin himself has very recently updated his LinkedIn profile to list his occupation as "Considering New Opportunities", suggesting he is no longer with Faceshift following its acquisition. A second Bay Area employee of Faceshift, Steve Macdonald, has also just changed his occupation to "Currently Looking For New Opportunities", showing his employment with the company ended in July.
Faceshift has removed nearly all mentions of its previous Faceshift Studio software from its website and has gone silent on Twitter and Facebook. The company is apparently still answering support requests, but offering no details on the fate of Faceshift Studio beyond its discontinuation.
Taken together, the evidence indicates Faceshift has indeed been acquired by another company that appears to be changing Faceshift's focus away from its current software products. While we have not been able to find a smoking gun linking the purchase to Apple, the highly secretive nature of the acquisition is typical of Apple and signs of Apple's ongoing interest in technology closely related to Faceshift's all make for a tantalizing possibility.
Back in 2010, Apple acquired Swedish facial recognition firm Polar Rose, and the company has filed several patent applications related to the technology. And of course real-time 3D motion capture is the key technology of PrimeSense, for which Apple reportedly paid nearly $350 million.
As for what Apple could do with Faceshift's technology, there are a number of possibilities ranging from the fun such as real-time avatars for FaceTime video chats to the more serious including biometrics for unlocking devices or authorizing payments via facial recognition.