Apple TV Gains Updated NFL Channel With Game Pass Integration
The Apple TV's existing NFL Now channel was today revamped, changing the name to "NFL" and adding support for Game Pass subscriptions. Through the updated channel, NFL fans who have a Game Pass subscription can watch on-demand NFL games and live out-of-market preseason games on the Apple TV for the first time.
In late July, the NFL did away with its existing NFL Game Rewind program, which previously gave customers in the United States access to on-demand NFL games after they aired on broadcast television. Game Rewind was replaced with Game Pass, with access being added to the Apple TV and the NFL Mobile app on the iPhone and the iPad.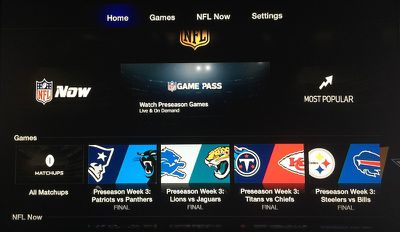 The prior NFL Now channel that was on the Apple TV was limited to historic videos, breaking news, and game highlights rather than complete games as the NFL's contracts with television providers have previously prevented it from showing full game content on the television through the Apple TV.
Game Pass includes live access to most out-of-market preseason games, aside from those that are nationally broadcast, plus on-demand regular season, playoff, and Super Bowl games that are available after they air on broadcast television.
Game Pass is available in the United States, Bermuda, Antigua, the Bahamas, any U.S. territories, possessions and commonwealths (including American Samoa, Guam, Puerto Rico and the US Virgin Islands), and Mexico. An NFL Game Pass subscription is priced at $99.99 and access to content will last until July 31, 2016.


NFL fans outside of the United States also have access to an international "Game Pass" service that offers up live games and on-demand content, which confusingly shares the same name as the new service available in the United States.
(Thanks, Dale!)