Sketchy Photo of Claimed 'iPhone 6s Plus' Box Surfaces Alongside Rumor of Smaller Battery
A new photo obtained by cnBeta [Google Translate] (via Mac Otakara [Google Translate]) allegedly shows off what appears to be the packaging of the upcoming iPhone 6s Plus. The photo depicts a standard white iPhone box, similar to what Apple has used as packaging for previous phones.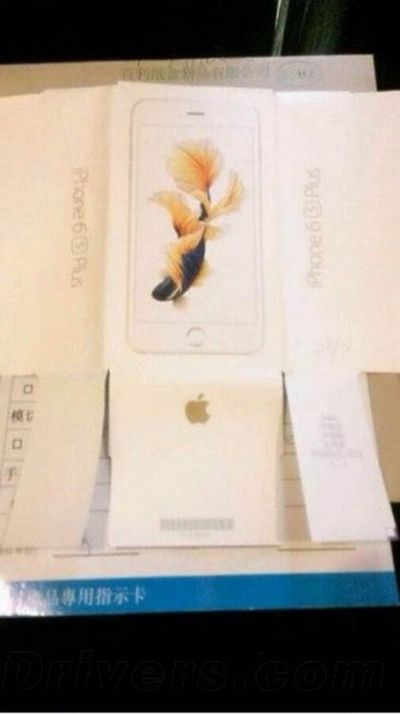 The box is unfolded and has what appears to be a gold iPhone 6s Plus on the front, a gold Apple logo on the bottom and "iPhone 6s Plus" written on the side. The "S" is within a small square, as is standard on iPhone "S" packaging. The box also shows off what looks to be a brand new wallpaper featuring a black and gold fish or flower.
Additionally, cnBeta says that the iPhone 6s' battery capacity will be down to 1715 mAh from the iPhone 6's 1800 mAh, while the iPhone 6s Plus will be down to 2750 mAh from the iPhone 6 Plus' 2910 mAh. Mac Otakara says they've also heard the battery capacity for both models will be lower, lining up with earlier rumors that the battery capacity in the phones would be smaller. If true, it likely indicates Apple has increased the battery efficiency of both "S" phone models in order to make up for the smaller battery capacity.
However, it's unclear how authentic the photos of the iPhone 6s Plus packaging are. The material of the box appears to be a thinner material than current iPhone packaging and displays an unfamiliar wallpaper that has not appeared in any iOS 9 betas thus far.
Apple is expected to announce both the iPhone 6s and iPhone 6s Plus at a September 9 event. The Cupertino company is also expected to finally unveil its new Apple TV with a new touch-based remote and full App Store. New rumors indicate the event could be held at the Bill Graham Civic Auditorium in San Francisco.