New Evidence Points Towards Bill Graham Civic Auditorium as Location For September 9 Apple Event
Earlier this week, there was some speculation that Apple might be planning to hold its upcoming September 9 iPhone event at the Bill Graham Civic Auditorium in San Francisco, and now there are new details that further hint towards Apple's involvement with the site.
Beginning on Monday, SFPD officers and private security guards began patrolling the grounds at the auditorium, prompting San Francisco news site Hoodline to do some digging into what was going on. It turned out the auditorium was booked for a "trade show" set to run from September 4 until September 10, but because it was registered to a company called "Adams and Associates," nothing linked the booking back to Apple.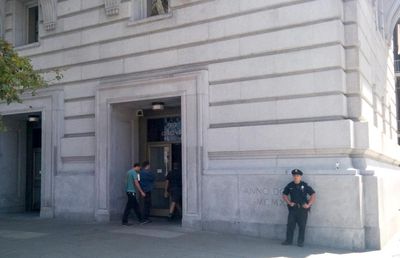 A police officer outside the auditorium, via

Hoodline


Hoodline now reports that a "trusted source" has confirmed the Bill Graham Civic Auditorium will indeed be used for Apple's September iPhone event.
Our source, who wished to remain anonymous due to the extreme privacy surrounding the event, has shown us documentation from event logistics indicating that Apple is renting the building through September 12th. This timing is consistent with what we were told by a security guard on Monday.
Hoodline has also unearthed information on planned street closures that heavily lines up with the timeline when we expect Apple to hold its event. One street will be shut down from 6 p.m. on September 8th until 11:59 on September 10th, while another will be closed on Wednesday, September 9 between 4 a.m. and 11:59 p.m.
The mysteriousness surrounding the booking at the auditorium combined with the information obtained by Hoodline and the upcoming street closures all seems to point towards Apple, but there continues to be no concrete evidence Apple has rented the site for its iPhone event.
In an interview with SFGate, the project director for the Civic Center said he had no knowledge of what the building was being used for, while a spokeswoman for the Planning Department said the "trade show" information was all department was told.
"I'm even the landlord of the building, and they won't tell me," said Rob Reiter, project director for the Civic Center. "I've never seen anything like it before, but I'm just a guy in the basement," he said of his office in the bowels of City Hall.
As was shared on Monday, the San Francisco Planning Department is involved because four window panels are set to be removed to accommodate an "exterior wall mounted star graphic sign," which may be a placeholder for an Apple logo.


In past years, Apple's iPhone-centric September events have been held at a variety of locations around the Bay Area, so it would not be a surprise to see the company hold its event at the Bill Graham Civic Auditorium. With just two weeks to go until Apple's September 9 event, it won't be long before the company's plans are unveiled. Media invites for the event will most likely be going out soon, confirming the event location.
(Thanks, Tom!)