Apple Plans to Debut New Apple TV in September With Touch-Based Remote, Full App Store
Apple is planning to introduce its long-awaited next-generation Apple TV in September, reports Buzzfeed's John Paczkowski. According to sources familiar with Apple's plans, the new set-top box will be unveiled in September at the same event where Apple will unveil the next-generation iPhone 6s and 6s Plus.
As has been previously rumored, it is said to include an A8 processor, a touch-pad based remote that's "drastically improved" compared to the current version, a new operating system that supports a full App Store, developer APIs, and Siri voice control, and more on-board storage to accommodate apps. Physically, the Apple TV will take on a new, slimmer look.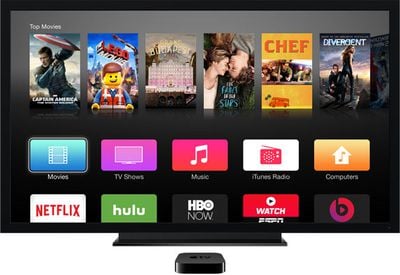 Apple will not be introducing its rumored television service at the same time, with sources telling Buzzfeed that the Internet-based streaming service could possibly launch in late 2015, but 2016 is more likely. Current rumors suggest Apple's television offering will bundle approximately 25 channels and cost between $30 to $40 per month.
Apple was widely expected to introduce both its new Apple TV and its upcoming streaming television service in June, at its annual Worldwide Developers Conference, but the two products were not ready for launch at that time. Apple postponed its release of the set-top box because it was "not ready for prime time" and held off on the television service because deals were not completed.
Apple has not introduced a revamped version of its Apple TV since 2012, so an updated set-top box with App Store support and other features will be a major change from the platform that we know and use today.