iPhone Battery With 1715 mAh Capacity Possibly Destined for 'iPhone 6s' or '6c' Appears
French site Nowhereelse.fr last week shared a photo [Google Translate] of a battery appearing very similar to an iPhone battery and labeled as being from Apple's usual supplier, but the battery's capacity of 1715 mAh leaves questions as to whether the battery is intended for the upcoming "iPhone 6s" or a smaller "iPhone 6c" that has reportedly been delayed or canceled.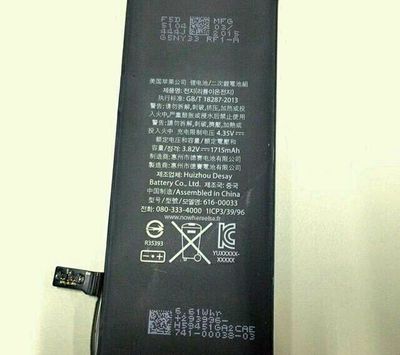 The battery's 1715 mAh capacity is lower than the 1810 mAh capacity of the iPhone 6 battery, indicating Apple would have to have increased power efficiency of the device for the "S" generation in order to achieve the same battery life as its predecessor. Given the consistent overall design of the iPhone 6 and 6s, it is unclear why Apple would reduce the battery capacity at all, unless other changes such as a thicker display panel needed for Force Touch support are reducing the internal volume available for the battery in the iPhone 6s.
Another option is that this battery is for Apple's rumored "iPhone 6c", which was reportedly a new 4-inch iPhone Apple had under development but which appeared to have been canceled or delayed earlier this year after supply chain evidence dried up. The battery in today's photo carries a manufacturing date of March 2015, so it does come from the timeframe when iPhone 6c claims were still circulating, although its capacity is higher than that of fellow 4-inch devices such as the iPhone 5s (1558 mAh) and iPhone 5c (1510 mAh).
One argument in favor of this being an iPhone 6s battery is the connector seen on the part, which appears essentially identical to the one seen on the iPhone 6 and distinct from that used on other iPhone models such as the 5s and 5c, but it is otherwise difficult to say what device this battery was planned for.
With roughly a month to go before the expected unveiling of the iPhone 6s and 6s Plus, part leaks are rapidly accelerating. Many of them will not reveal much given the similarities between the two generation's designs, but some subtle differences such as those on the display assembly may hint at changes for the upcoming device.
(Thanks, Ryan)