Samsung Launches $1 Trial Program for iPhone Users
Samsung today launched a new promotion called Ultimate Test Drive, a program designed to get iPhone users to switch away from their Apple devices to Samsung ones (via Engadget). The Test Drive coincides with the launch of Samsung's newest devices, the Samsung Galaxy Note 5 and Galaxy S6 Edge+.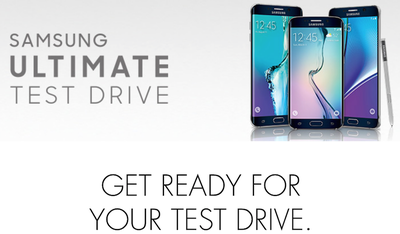 For just one dollar, you can try one of our latest Samsung phones for 30 days with no obligation. Your test drive kit will come with the phone of your choice, an activated sim card, and a step-by-step guide to help you start your test drive.
To sign up for the promotion, iPhone users have to visit SamsungPromotions.com on their device and select their phone. Samsung tells Engadget that the promotion is compatible with any U.S. carrier. It's unclear whether Samsung will put a hold on trial-goers credit cards and, if so, how much that hold could be.
Last year, T-Mobile launched a trial program for users to test out its network with an iPhone 5s for a week. T-Mobile placed a $699.99 hold on a user's credit or debit card, charging it if the phone wasn't returned at the end of the trial.
Following the launch of both the iPhone 6 and 6 Plus, Samsung has seen a significant profit drop in its mobile division as some of its customers opted to switch from Samsung devices to the larger-screened Apple devices. Before the iPhone 6 and 6 Plus, screen size was one of the major differentiators between Samsung and Apple's smartphones, but now Samsung must find other ways to differentiate from Apple. Thus far, the Korean company has focused on faster charging and the S6 Edge's curved display screen. The Ultimate Test Drive is Samsung's latest attempt to win back some customers.