CarPlay Praised as Wider Rollout Begins, but Lacks Smarts of Google Maps and Google Now
Despite being announced just over two years ago, CarPlay is only now becoming a built-in option in select new 2015 and 2016 vehicles by Chevrolet, Honda, Volkswagen and other car manufacturers. The in-dash system enables drivers to use Siri for hands-free access to Maps, Phone, Messages, Music, Podcasts and third-party apps such as Spotify, Rdio, iHeartRadio and MLB At Bat.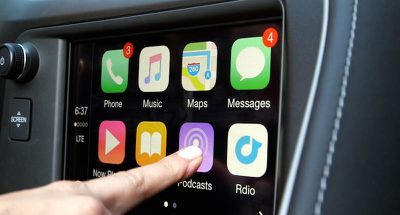 CarPlay touchscreen on dashboard of 2016 Corvette Stingray (Image: WSJ)
With CarPlay starting to become a feature car buyers will be considering, Joanna Stern of
The Wall Street Journal
has published a timely review of CarPlay after testing the dashboard software inside a 2016 Corvette Stingray on a New York City road trip between midtown Manhattan and Rockaway Beach in Queens. Overall, she offered praise for CarPlay, but noted the service "isn't a complete joyride" and lacks the useful functionality of some Google services.
Stern first noted a positive experience using Siri to control Apple Music and make requests:
But DJ Siri to the rescue! All week she has accurately taken my requests, playing them via Apple Music (but not Spotify or any other third-party apps). "Siri, Play 'Little Red Corvette.' " "Siri, play me Madonna's top songs." "Siri, who sings this song?" She does it all—though I wouldn't object if she were a tad faster.
She also gave high marks to CarPlay's messaging capabilities and Siri's accuracy at transcribing words:
Text-message integration is where CarPlay feels miles ahead of any competition from car makers or even Google. […] Siri was, surprisingly, better at helping me respond than Google's built-in voice assistant. Siri accurately transcribed my words nearly every time. (She forgivably struggled a bit when I was driving with the roof down.)
On the contrary, Stern found Apple Maps to be inferior to Google Maps at providing routing based on traffic conditions:

When I got in the car to go to my friend's baby naming, Apple Maps routed me through midtown Manhattan, showing a blissfully traffic-ignorant blue line all the way to the destination. Google Maps, however, knew that Park Avenue was closed. It routed me to the FDR Drive, on Manhattan's east side. Ignoring Apple, and choosing Google's route, I got there on time.
The review concluded that Apple's services are "stuck in the slow lane" compared to Google Maps and Google Now:
Siri also struggles when it comes to finding businesses. Sure, she can identify the closest gas stations, and she knows mega-retailers like Starbucks and Target. But when I told her to go to my favorite coffee shop in my New Jersey hometown, she found it… in Limerick, Ireland. Google knew what I was talking about right away.

Google Now might have even guessed I wanted to go there, even before I searched. Culling information from your email, calendar and Web searches, Google's prediction-based assistant swings into action when you plug your Android phone into an Android Auto-equipped car. In addition to displaying core information like weather and reminders, it anticipates your next destination.
Nevertheless, Stern described CarPlay as the future of in-car technology and said that, if she were in the market for a car right now, she would add Apple's in-car software to her want list. The full-length review is a worthwhile read and provides a side-by-side comparison of CarPlay's maps, messaging, music, voice control and home screen features with Google's rival in-dash system Android Auto.