Honda Introduces 2016 Accord With CarPlay and Android Auto Support
Honda today at its high-tech research facility in Mountain View introduced its new 2016 Accord with support for both CarPlay and Android Auto, reports Re/code. The ninth-generation sedan will be the first Honda vehicle to support CarPlay as the Japanese car maker aims to expand the iPhone-based dashboard system across its vehicle lineup throughout 2016 and beyond.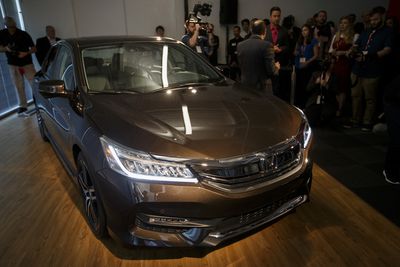 Honda's new 2016 Accord supports CarPlay (Image: Mercury News/Dai Sugano)
CarPlay will come standard on 2016 Accord EX, EX-L and Touring models. Honda opted to announce the mid-sized vehicle in Mountain View, as opposed to traditional auto hotbeds such as Detroit and Los Angeles, because of Silicon Valley's growing importance to the auto industry, particularly as vehicles become more connected with CarPlay and other modern technologies.
Apple has listed Honda as a CarPlay partner on its website for several months, but the car maker has not been entirely clear about its launch plans until today. GM is also committed to supporting CarPlay in 2016 across its Chevrolet, Cadillac, Buick and GMC vehicle brands, while Kenwood recently began shipping its lineup of aftermarket CarPlay and Android Auto systems.