Apple Live TV Service Not Coming Until 2016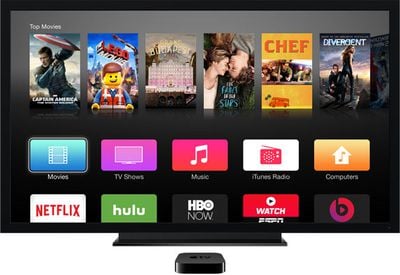 Bloomberg
reports that Apple will be unable to deliver their rumored live TV-over-internet streaming service for the Apple TV until 2016. Content negotiations are reportedly stalling the launch of the service, which Apple had hoped to be ready for their rumored
September 9th
media event.
The company wanted to introduce this year a live TV service delivered via the Internet, but is now aiming for 2016, said people familiar with Apple's plans.
Apparently, pricing of the new TV service is one of the main hurdles in the negotiations. Bloomberg reports that Apple wants to offer "a package of popular channels" for $40/month, a significant discount from the average cable bill.
A new Apple TV set top box, however, is still said to be ready for release. The new Apple TV is rumored to have a touch-based remote control and full app store. Apple is expected to announce the new Apple TV on September 9th.