EU Inquiry Finds No Evidence Apple Colluded With Record Labels to End Freemium Music
The European Commission has failed to find evidence that Apple conspired with record labels to put a stop to free music streaming services, reports Re/code, citing sources with knowledge of the investigation.
The European Commission spoke with multiple digital music services and record labels, but was not able to find evidence of illegal activity, putting an end to the probe. Investigators' "files will remain open," however, as Spotify continues with licensing talks with major labels.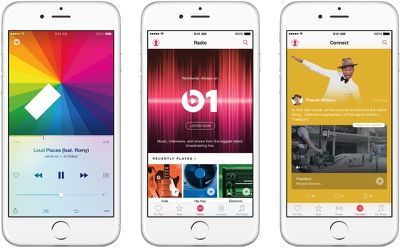 European regulators began scrutinizing Apple's discussions with record labels in April, over concerns Apple would use its influence to persuade music companies to put an end to free ad-supported music services such as Spotify. Apple Music, unlike Spotify, does not offer a free listening tier.
Rumors later suggested Apple was indeed leveraging its power in the music industry to push record labels to stop offering licensing options for freemium music tiers, leading to investigations by the U.S. Department of Justice and the Federal Trade Commission, both of which are ongoing.
According to Re/code's sources, while the European Commission has found no evidence of collusion between Apple and record labels, it has also launched a separate investigation into Apple's App Store policies concerning competing music services.
Separately, the EU has asked Spotify and other music streaming services for information pertaining to Apple's mobile App Store, according to people with knowledge of the situation. Regulators are seeking information on the restrictions Apple places on apps offered through the store.
Apple's App Store policies are also currently being looked at by the U.S. Federal Trade Commission, due to the 30 percent fee the company collects on app and subscription revenue. The FTC is concerned that Apple's fee and its policies, such as a ban on links to outside stores, are illegal under antitrust law.