Apple's Back to School Sale Kicks Off Online, Expands to Additional Countries
Apple introduced its 2015 Back to School promotion in late July, but it was initially limited to Apple's Retail Stores in a few select countries. As of today, the Back to School Program is also available for purchases made online, and it has expanded to additional countries.
With Apple's 2015 Back to School promotion, students, parents of students, and educators who purchase an eligible Mac will receive a free pair of Beats Solo2 On-Ear Headphones or a pair of Beats Solo2 Wireless On-Ear Headphones at a $200 discount.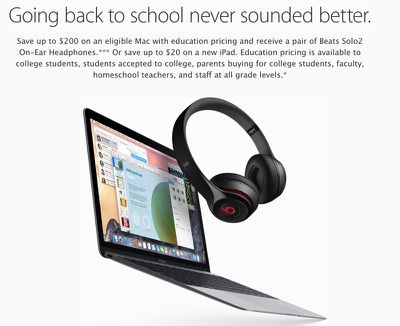 Eligible Macs include the iMac, MacBook, MacBook Pro, MacBook Air, and Mac Pro. The Mac mini, refurbished Macs, iPads, and iPhones are excluded from the 2015 Back to School program.
Apple has added a link to the Back to School promotion on its main site, which takes users to the Education Store and details the promotion. Viewing any Mac in the Education Store also brings up information on the Back to School program.


When an eligible Mac is added to a shopping cart, buyers will have the option to select their free Beats Solo2 headphones in Gloss Black, Gloss White, Gloss Blue, Gloss Pink, Gloss Gray, Gloss Red (Product RED), Gold, Silver, or Space Gray. Students hoping to take advantage of the $200 discount on Wireless Solo2 headphones will need to add them to the cart manually.


This year's Back to School promotion is a significant deviation from the deals offered in past years. Previously, Apple provided iTunes or Apple Store gift cards in amounts between $50 to $100 with the purchase of a Mac, iPhone, or iPad.
Apple's Back to School promotion will run until September 18, 2015.