Taylor Swift Shares Behind-the-Scenes Details of Her Apple Music Letter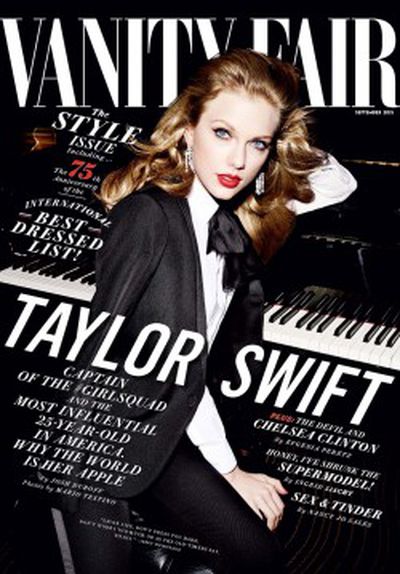 In an interview for the September cover story of Vanity Fair, Taylor Swift reveals her thoughts and reasoning behind the letter she wrote to Apple concerning the lack of monetary support for artists during Apple Music's three-month free trial period. The singer notes that she wrote the letter in the early morning hours after a few of her fellow artists sent pictures of their Apple Music contracts.
"I wrote the letter at around four A.M.," Swift says. "The contracts had just gone out to my friends, and one of them sent me a screenshot of one of them. I read the term 'zero percent compensation to rights holders.' Sometimes I'll wake up in the middle of the night and I'll write a song and I can't sleep until I finish it, and it was like that with the letter."
Swift's main concern was that her letter would be taken as whining, particularly since she had addressed a similar issue regarding Spotify last year, but after running the letter past her mother, Swift decided to publish it.
Apple did indeed listen, and later the same day reversed course on its decision and announced plans to pay artists during the initial free trial of Apple Music. In the Vanity Fair interview, Swift notes Apple's near-immediate response and genuine care for her and her fellow artists, further alluding to her public break from Spotify and that company's subsequent reaction to the pulling of her music from the service.

Says Swift, "Apple treated me like I was a voice of a creative community that they actually cared about," she says. "And I found it really ironic that the multi-billion-dollar company reacted to criticism with humility, and the start-up with no cash flow reacted to criticism like a corporate machine."
Although it's hit a few bumps in the road, Apple Music has been steadily providing its early adopters with exclusive tracks, celebrity-hosted Beats 1 radio shows, and personalized music discovery since its June 30 launch. Those who signed up on day one still have just under two months left to their three-month free trial, with monthly subscriptions priced at $9.99 for individuals and $14.99 for families after the trial. The company reportedly has ten million users on the free trial so far, but it remains to be seen how many of those will convert to paying users.