Beats 1 to Include Programming Blocks From Celebrities Like Elton John, Pharrell, and Dr. Dre
News has been swirling around the impending launch of Apple's new streaming music service, Apple Music, for a few weeks now. This morning, it was revealed that rapper Eminem will be the first official guest interviewed by DJ Zane Lowe on the Beats 1 live 24/7 radio show, setting up for a launch next Tuesday, June 30. Today, thanks to an in-depth post from The New York Times, new details regarding the show's programming schedule and celebrity partners have been revealed.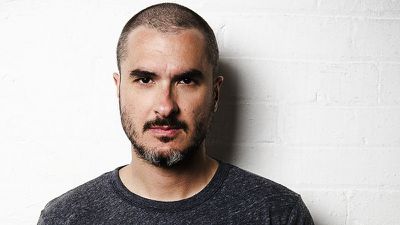 Lowe envisions Beats 1 as a sort of social media platform for music, a place where users worldwide can flock to in search of new song discoveries and celebrity interviews and news, akin to platforms like Twitter and Instagram. To tackle such a task, Beats 1 will be broken down into one- and two-hour slots, sometimes hosted and produced by celebrities and musicians themselves.

"Everyone keeps going to their devices because of fear of missing out," he said. "I'm constantly going on Instagram, Twitter, wondering what's going on in my friends' lives. What am I missing? I want that for radio. What's on right now, right now, that I didn't know I wanted to listen to?"

To keep Beats 1 sounding fresh around the world, the station will alternate one- and two-hour programming blocks by established broadcasters with those by musicians and celebrities, who will host and plan the shows themselves. Among the names on board: the teen actor Jaden Smith, the alternative singer St. Vincent, Josh Homme of Queens of the Stone Age and the British electronic duo Disclosure.
Small hints were given to the specificities of some of Beats 1's shows, including a Dr. Dre-hosted hour called "The Pharmacy," and a smash-up between eclectic oldies and modern classics hosted by Elton John, suitably titled "Elton John's Rocket Hour." Other celebrity partners with planned shows include Pharrell and Drake, the former with a planned exclusive single for the service and the latter publicly supporting Apple Music on stage at WWDC this year.
The original idea for Beats 1 came from musician -- and key designer of Apple Music -- Trent Reznor, who hoped to expand the window of each individual user's musical tastes, fearing a lack of discovery and creativity in the current landscape of digital downloads. Listening to Lowe's own BBC-hosted radio show led Reznor to eventually helping Apple form and create the idea of Apple Music, and specifically a worldwide "monoculture" of a radio show in Beats 1. "Part of the last three months has been desperately trying to come up with a new word that's not radio," Lowe mentioned to The New York Times. "We couldn't do it."
Apple Music has faced a few hurdles in the weeks leading up to its big debut, namely in the public criticism of its three-month free trial by musician Taylor Swift, followed immediately by the company's reversal on its no-royalties policy during that period. Those interested should check out The New York Times' full-length feature on Zane Lowe and his addition to Apple Music, which is just five days away from launch.