Apple Music First Impressions: Convenient All-in-One Experience With Overwhelming Design
As Apple Music gears up to launch in the next few hours this morning -- 9 AM Pacific to be exact, following iOS 8.4 at around 8 AM Pacific -- a few publications have posted some detailed first impressions of the the music streaming service. Getting to mess around with the app for the first time, Mashable, Re/code, The Loop and Rolling Stone came away with largely positive reactions to Apple's first foray into the music streaming game, although the large consensus hanging over it all was a tentative negativity regarding the app's overwhelming amount of content and the somewhat confusing UI that is used to navigate it all.
First off, Mashable noted the big positive of the Apple Music service: for those baked into the Apple ecosystem it offers one library, combining purchases from iTunes with the songs users will listen to in Apple Music for one uniform experience. The site was also one of the few to enjoy Apple Music's UI, calling it, "more polished and finished than the old music app." Its biggest takeaway, however, was the "For You" section.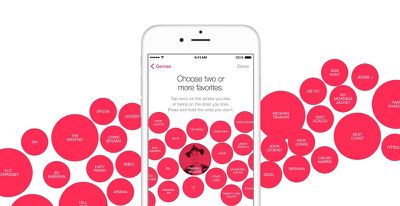 It's hard for me to over-stress how much I like For You. From the very beginning, the recommendations in playlists and albums that the app showed me were dead-on accurate, reflecting my various musical interests.

The idea behind "For You" is to help make it easy to find good music to listen to. Tapping on an album or playlist will play it instantly. You can then either add it to your library, keep it playing in the background, add a track to another playlist or just cycle through. The DNA of this experience really is what we saw with Beats Music last year, but now it's more refined and feels more fully realized.
Re/code mentioned three big positives for the new streaming service: the slick combination of old iTunes songs with new Apple Music songs, surprisingly accurate and enjoyable song curation, and the $15 per month family plan. The biggest issue however tied into one of the app's positives, with the wealth of content and exploration somewhat kneecapped by an overly "confusing" user interface experience, especially within the "New" tab, which "could be a streaming app all by itself."

I set out to gather some initial impressions of how it feels to use the product. And to answer the question: Would I pay $10 a month — $120 a year — to use it? My answer is a tentative yes, with some caveats. Apple has built a handsome, robust app and service that goes well beyond just offering a huge catalog of music by providing many ways to discover and group music for a very wide range of tastes and moods.

But it's also uncharacteristically complicated by Apple standards, with everything from a global terrestrial radio station to numerous suggested playlists for different purposes in different places. And the company offers very little guidance on how to navigate its many features. It will take time to learn it. And that's not something you're going to want to do if all you're looking for is to lean back and listen.
Similar to Re/code and Mashable, Rolling Stone was impressed by the "Netflix-style hyper customization" of the "For You" tab that will greet every user when entering Apple Music for the first time. Although Beats 1 Radio had not yet launched when the site had hands-on with the service, they got to preview a few artist-focused shows, including St. Vincent's "Mixtape Delivery Service," which saw the alternative musician reading notes from fans and spending the hour dedicating personalized songs to each one.
Rolling Stone also detailed Apple Music's "Connect" platform a bit more than the others, noting that even though a few artists had Connect available to them in the pre-launch demo phase, the Twitter-like service "looked pretty quiet." The biggest issue, however, was the possibility of fan interaction amongst one another within Connect, and the fact that the only designated place for it to occur was within the comments of each individual post.

Moreover, the only place where fans can interact is the comments section of each post, cutting out a major part of what Apple hopes will be a new music ecosystem: fandom. While it's possible fans would share music individually – with Apple Music's many options to post to text, email, Twitter and Facebook – the absence of fans' voices on "Connect" makes it more like a supplement to a social network than an exciting music-discovery platform. But only time will tell if it catches on. This is one place where Spotify, with its ability to follow and make playlists your friends, has a leg up.

With its vast selection of music and smartly curated playlists and radio, Apple Music is robust enough to compete with, and possibly supplant, Spotify and Pandora as the go-to service for music fans. At the same time, users will need to play around with it a bit and dig to move past some of the less immediately intuitive facets (i.e., just how deep the "New" tab goes) for it to hook them.
The Loop went into detail regarding the "My Music" section of Apple Music, noting that between the tab's two sections -- Library and Playlists -- all of a user's old iTunes music downloaded or in the cloud can be found there. Users will be able to add certain playlists to My Music so it can appear front-and-center in the tab without having to go through multiple pages, and entire playlists will be able to be made to listen to offline. Besides a finicky rating system for Beats 1, The Loop largely enjoyed Apple Music in the end.

I'm damned impressed. Apple Music is a quality service, with the right mix of human curation and algorithms to help users figure out exactly what they want to hear. I can only imagine that the service will only get better from here. The more I use it, like/dislike songs, the better it will know me.

I was interacting with Apple Music the entire time I was writing this and the radio station I started listening to improved quite a bit in those hours. I'm not skipping songs, instead I have a steady diet of Slash, Godsmack, Led Zeppelin, and Metallica. It's hard to beat that.
Everyone will be able to test out Apple Music for themselves soon enough, with the official launch of the updated music app in just a few hours at 9 AM Pacific. Those interested should remember to first download the new iOS 8.4 update an hour before in preparation for the streaming music service's debut.