More 'iPhone 6s' Display Assembly Photos and Renderings Revealed
Following the release of several photos of a claimed display assembly for the "iPhone 6s" over the weekend, Macfixit Australia has shared additional images of what appears to be the same display assembly, further suggesting the leaked images to be real internal parts for the next-generation iPhone.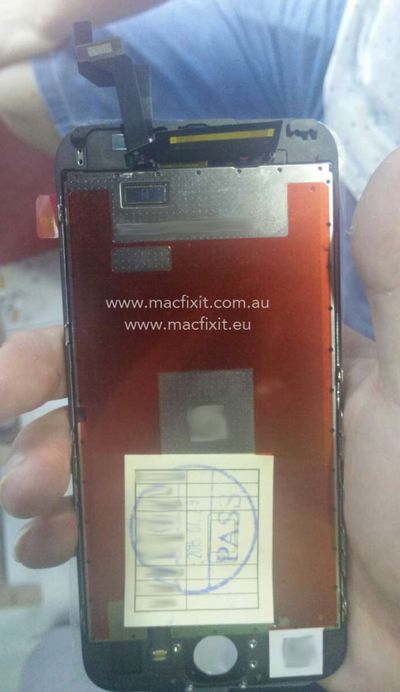 One of Macfixit's photos includes a quality control label showing a pass date of July 29, which, if legitimate, would put the assembly in a correct time frame for Apple's traditional September iPhone launches. The image also appears identical to those released over the weekend by repair company GeekBar, with the same possible cutouts for a taptic engine to fuel Force Touch and a slightly thicker frame.
A few possible third-party case manufacturer design renders have also been shared by uSwitch and Nowhereelse.fr's OnLeaks channel, backing the theory that this year's iPhone line will be slightly thicker than the iPhone 6 and iPhone 6 Plus. Theories that support Apple's reasoning behind increasing the iPhone's thickness -- other than the inclusion of Force Touch -- include attempts to avoid another "Bendgate" controversy from last year with a stronger body. Height and width of the iPhones shown in the renderings are also marginally larger than the measurements for the current lineup.
While the iPhone 6 came in at 6.9mm thick, the iPhone 6S is 7.1mm, according to our source.

The iPhone 6S Plus, which was the model most often cited in the so-called 'bendgate' scandal, has also been body-building. It's gone from 7.1mm thick to 7.3mm, we were told.
The renders also suggest that the "iPhone 6s" could be missing the slightly protruding camera found on the current lineup, perhaps made possible by the slightly thicker body. The "iPhone 6s Plus" renderings, however, continue to show a protruding rear camera. uSwitch does note the renders could simply be incomplete, so Apple's plans for rear camera designs remain unconfirmed. Otherwise, the site notes an overall similarity between generations, with a home button, volume rockers, lock switch, and screen size that make the new phones "largely indistinguishable" from last year's models.


Even with the possibility of a thicker frame, the size increase of the so-called iPhone 6s would be small enough to allow most accessories and cases to function with both generations of the device. News and rumors regarding the "iPhone 6s" and "iPhone 6s Plus" have begun to proliferate in the past few weeks, and will no doubt continue to do so as we head into the iPhone launch season.