Apple Appears to Have Ditched Plans for 4-Inch 'iPhone 6c' in 2015
While several reports since last December claimed that Apple was planning to release a new 4-inch "iPhone 6c" as a low-cost option alongside the so-called "iPhone 6s" and "iPhone 6s Plus" later this year, Cowen and Company analyst Timothy Arcuri recently told investors that supply chain evidence of the rumored smartphone has seemingly disappeared since around March.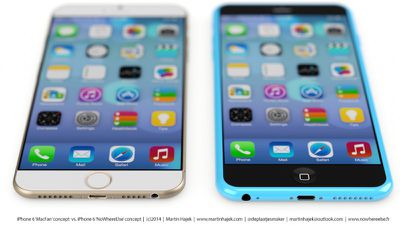 Arcuri, in a research note obtained by Business Insider, speculates that Apple may have delayed or dropped plans to release the "iPhone 6c" due to concerns that the budget smartphone would cannibalize the iPhone 6, which has experienced record-breaking sales and could continue to be a hot product for Apple if given a price reduction alongside the "iPhone 6s" and "iPhone 6s Plus" in September.
"I think one of the reasons is because the iPhone 6 has sold so well," Arcuri said. "And they said, 'Look, why would we want to cannibalize? If we came out with an iPhone 6C, we would essentially cannibalize a price-reduced iPhone 6.'"
Arcuri believed that the "iPhone 6c" would essentially be iPhone 6 hardware shrunken down to the size of an iPhone 5s, including an all-metal unibody that would differentiate itself from the plastic iPhone 5c released in 2013. Investment banking firm Jefferies predicted in late June that a 4-inch metal "iPhone 6c" will be released in early 2016, but that timing appears questionable.
KGI Securities analyst Ming-Chi Kuo issued a note to investors in April that claimed a new 4-inch iPhone was unlikely in 2015, and a few weeks later said that Apple is instead likely to release a new 4-inch iPhone with Apple Pay compatibility in 2016. Kuo said that Foxconn will be the primary manufacturer of the low-cost handset, but Apple's product roadmap could have changed since that time.
Apple frequently tests new products and services internally that are never released, so it is entirely possible that the company never planned to make the "iPhone 6c" available to the public. Sketchy rumors and leaked images of the purported "iPhone 6c" shell -- notably plastic -- began picking up in December, but few concrete details about the rumored smartphone have surfaced since that time.