Leaked Images Provide First Look at Purported Rear Shell of 'iPhone 6c'
Chinese parts supplier Future Supplier (via Nowhereelse.fr) has posted leaked images of what it believes could be the rear shell for the so-called "iPhone 6c." The rear housing looks similar to the plastic iPhone 5c, with two notable differences being a pill-shaped LED flash cutout and two rows of speaker grilles on the bottom of the smartphone. The size of the rear shell indicates that the device's screen size could fall within the 4-inch range.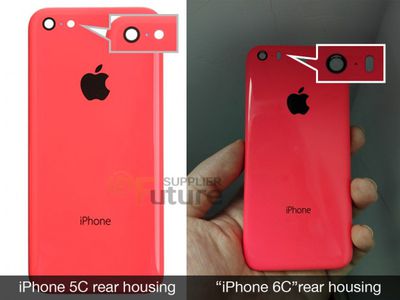 The pill-shaped LED flash design and two rows of speaker grilles are also found on the iPhone 5s, indicating that the iPhone 6c could have the same internals as the two-generation-old smartphone with a plastic shell. The smartphone would likely be positioned at the low end of the iPhone lineup as Apple's free smartphone, alongside the iPhone 6, iPhone 6 Plus and next-generation iPhones released later this year.


Apple did not refresh the iPhone 5c when it launched the iPhone 6 and iPhone 6 Plus last year, leading to speculation that the plastic smartphone might be discontinued from the smartphone lineup. Last week, however, it was reported that Apple is planning to release three new iPhones later this year, including the iPhone 6s, iPhone 6s Plus and 4-inch iPhone 6c.